Glow in the Dark Slime
After seeing
this activity
on Pinterest, we decided we had to try it ourselves.   We have made slime before (we actually call it Flubber) but never glow in the dark.
Step 1:  Mix one cup Borax with some water in a large jar.  We shook the jar for 10 minutes to mix it up (taking turns obviously).
Step 2:  In another plastic cup, they mixed together 50% glue with 50% water and 2 tbsp glow in the dark paint.  They stirred this up with a popsicle stick.  Then it was time to add the Borax solution.
Step 3:
  They slowly poured the Borax solution into the glue/water/paint mixture while stirring.  It quickly adhered to the popsicle stick and started to become a solid.
Step 4:
  They took it out of the cup and kneaded in their hands for awhile.  As soon as it was ready we ran to the closet (which is our go to place to check glow in the dark anything).  IT WORKED!!  It really glowed.  Have to admit once I was in the closet I did wonder why we wanted to make it glow so bad.  We could not use the slime in the closet but it was still cool.  Plus, I can not imagine myself at night, when dark out, saying "time to make some glow in the dark slime right before bed kids".  Regardless, the slime itself was hours of fun out of the dark closet.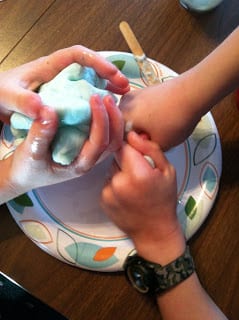 Here is the finished product.  They started using tools with it but I did not take pictures – scissors, cookie cutters and sandwich makers.  The slime held up very well.