Here is a super CUTE and fun free unicorn printable for the kids to solve the unicorn mystery. It involves logic, attention to detail and visual motor skills. You can download the free unicorn printable at the bottom of the post.
How to You Solve the Unicorn Mystery
All you need to do is download the free unicorn printable. Read the 4 statements at the top of the paper to determine who the unicorn is.
If children have trouble, reword the questions and tell them to cross out the unicorns wearing crowns, the unicorn not wearing glasses, etc.
The kids will have fun trying to solve the unicorn mystery and guess who it is. This game is a little bit of detective work with a side of magical unicorn! It is a great combination for young kids looking for a fun but solvable challenge.
If your child LOVES detective work, check out the Secret Agent Pretend Play packet for many more activity ideas.
Suggestions for When to Use the Free Unicorn Printable
This activity is perfect for:
unicorn birthday party games
early finishers in the classroom
any unicorn lover
times when you need the kids to unplug
an easy brain teaser
You can print it in black and white or full color. The color of the unicorns is not needed to solve the unicorn mystery.
More SUPER FUN Unicorn Printables
Unicorn FunThis digital download includes 20+ games, activities and puzzles to encourage playtime, visual perceptual skills and physical activity.
Unicorn Coloring Book This super cute Unicorn Coloring Book (digital download) includes 12 adorable black and white unicorn pictures with phrases to color. Plus, one BONUS birthday coloring page. You can even edit the name to include your child's name right on the Unicorn birthday coloring page.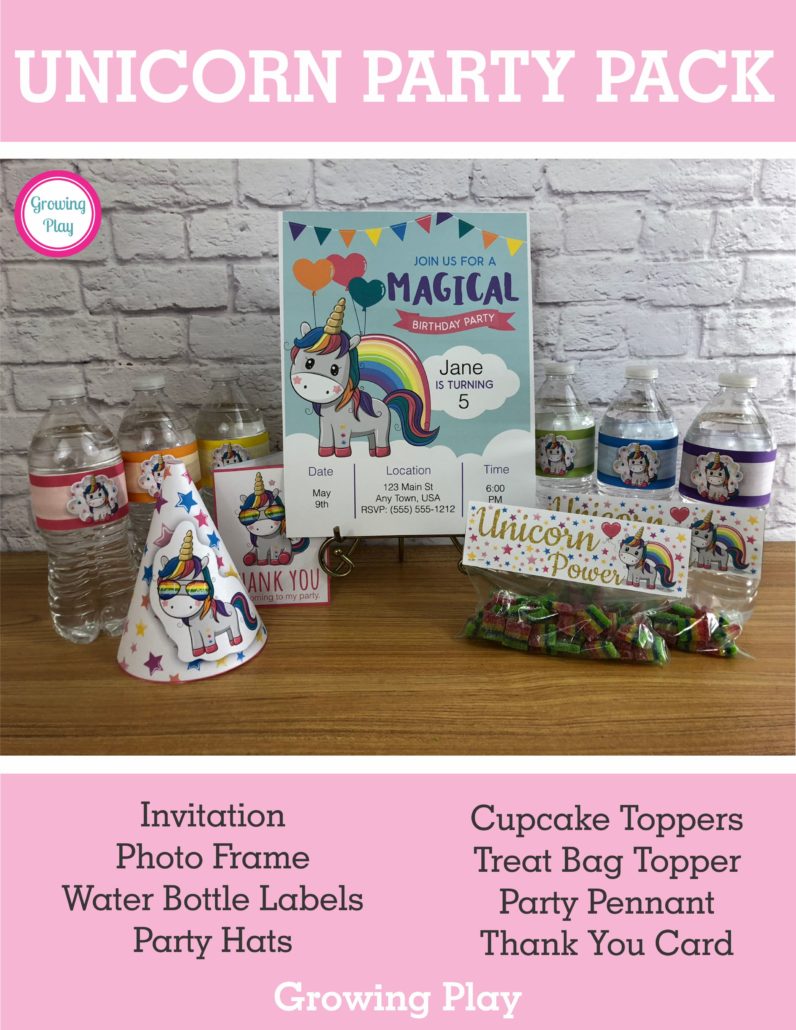 Unicorn Party Pack This digital download includes an invitation, party hats, water bottle labels, cupcake toppers, photo frame, party banner, treat bag toppers, and thank you card.
Unicorn Positive Affirmation and Growth Mindset Posters The digital download Unicorn Positive Affirmation and Growth Mindset Posters include 25 posters to encourage a positive mindset and outlook on life. Boost self-confidence and improve your mindset with these full color 8.5″ by 11″ posters to print and hang up in a classroom, bedroom, playroom or anywhere a unicorn lover hangs out!
Planning a Unicorn Birthday Party?
Are you planning a unicorn birthday party? Is the big day quickly approaching and you are starting to panic? If the answer is yes, this ultimate Unicorn Birthday Party Package has everything you need to get it all done right away! This digital download includes an invitation, decorations, games, party favors and more. All available for immediate download. When you purchase all of these together, the bundle is 50% off.
ulitmateOnce purchased, start party planning or just start the Unicorn party right away! Print what you need. As a mother of 6 who has hosted tons of birthday parties, trust me when I say there is more than enough to entertain a group of kids for hours with these fun unicorn games and activities. FIND OUT MORE.
Download your FREE Unicorn Printable – Solve the Unicorn Mystery
Sign up to receive the weekly Growing Play email newsletter and announcements. You will be redirected to the FREE printable. If you can not see the sign-up box, send us an email at info@growingplay.com referencing the freebie and we will email it to you.