Free Christmas Printables for Kindergartners and Older
This packet of free Christmas printables for kindergartners and older is loaded with Christmas pictures and activities. These free printables are a great way to celebrate the holiday season. You can download it for free at the bottom of the post. Your kindergarten students will thank you!
How Do the Free Christmas Printables for Kindergartners and Older Work?
All you need to do is follow these three steps to download the printable activities with a Christmas theme:
Enter your email to sign up to receive the weekly emails and other announcements from Growing Play.
Download and print the fun activities.
Give your child pencils and crayons to complete the free Christmas worksheets.
What Skills Are Kids Practicing When Completing These Printable Games?
The Christmas printables for kindergartners and older encourage kids to practice the following skills:
fine motor skills (using the fingers and hands)
visual closure skills (completing the other side of an object)
turn taking with tic-tac-toe games
visual discrimination skills (recognizing differences between pictures)
figure ground skills (finding hidden objects)
visual motor skills (drawing lines and coloring)
All of these skills are necessary for reading, writing, and math! Not to mention they provide some Christmas fun to add to your literacy activities. What a fun way to learn and practice skills with these practice pages during the Christmas season.
What Activities are Included?
There are four printable pages in the activity pack.
Coloring the Christmas Wreath, Shadow Matching the Stockings, Finish the Gingerbread Man, Tic Tac Toe and Find Two of the Same
Self Portrait, Finish the Christmas Tree, FInish Santa Claus, Penguin Shadow Matching, Tic Tac Toe
Finish the Picture, Color the Christmas Cookies, Maze, Snowman Shadows, Tic Tac Toe
Christmas Coloring Pages with a Twist – Find 10 peppermint candies too!
Suggestions for the Free Christmas Printables for Kindergartners and Older
Here are a few tips about the printable activity for the month of December:
print the packet and put in a literacy center to add fun and games for the holiday season
put in a page protector so you can use the Christmas worksheets over and over again
toss the printables in your student's backpacks to keep them busy with extra practice over the school break
parents can bring the printables in their bags to pull out when waiting at a restaurant or anytime the kids unplug.
makes a great last minute stocking stuffer too! Grab other free activities from Growing Play to add to the packet.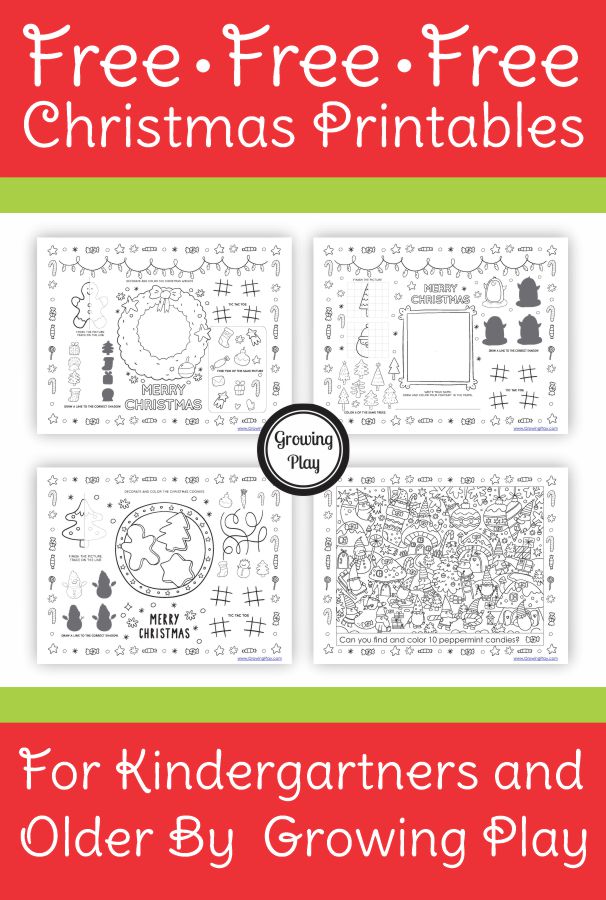 Who are These Activities Appropriate For?
This free packet is suitable for students in kindergarten, first grade, second grade, third grade, and even older! We all love a puzzle page no matter what our age!
Want More Activities Like This One?
Are you looking for more fun Christmas activities? Check out some of my favorite Christmas printable worksheets below.
If you are in search of a cute and fun Christmas Bingo PDF for immediate download, check out this Christmas Bingo Party Pack where you can play with up to 30 players!
The Christmas Puzzles Packet includes full color, brain boosting, FUN Christmas activities to complete. Look and find challenges, mazes, puzzles and more all for when the kids need some extra entertainment this holiday season.
Download your FREE Christmas Printables for Kindergartners and Older Here
Thank you for your interest in the holiday worksheets. printable pack. Sign up to receive the weekly email newsletter and other announcements from Growing Play. A new tab will open with the PDF. If you can not see the sign up box, email us at info@growingplay.com and reference this freebie. Please remember the terms of use: it is only for your personal use. Illustrations By Nadezda Barkova used under a Shutterstock license.