Description
Pretend Play Bundle
Did you know that pretend play can spark cognitive, emotional, social, language and motor skill development in children?  It is truly a very simple activity that requires the developing brain to work very hard.  ALL 9 TITLES ARE DIGITAL DOCUMENTS.  They are PDF documents that will be delivered electronically immediately following payment.
School Pretend Play Packet – digital download includes 28 forms and signs to play pretend school! You be the teacher with a lesson plan, bulletin board, file folders, weather charts, calendars, job charts, hallway passes, job charts and more!
Hospital Doctor Pretend Play Packet digital download includes 22 forms and signs to play pretend hospital and doctor.  Check in desk, insurance cards, appointment cards, emergency forms, plan of care, nursery forms and more!
Animal Care Pretend Play Packet: The Animal Care Pretend Play packet includes 28 forms and signs to play pretend:
Veterinarian – provide medical check ups for the animals
Pet Store – sell pets, food and write receipts
Pet Show – organize a pretend pet show, judge it and give out awards
Zookeeper – open up a pretend zoo, sell tickets and plan animal shows.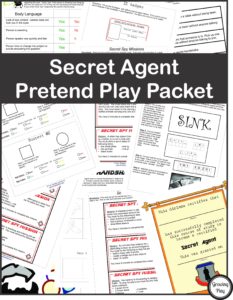 Secret Agent Pretend Play Packet: The Secret Agent digital download packet includes secret agent oaths, club, handshakes, secret codes, secret missions, handwriting analysis, lie detecting and more!
Candy Shop Pretend Play: digital download includes printables to create candy store items, business cards, order forms, menus, create your own candy forms, candy bucks, chocolate bar wrappers, sale signs and more.
Transportation and Travel Pretend Play Packet includes everything you need to play pretend airport, train station, department of motor vehicles and cruise ship. Plan a vacation, grab your tickets and head to your imaginary destination.
Crayon Cafe – Here is a wonderful download that combines pretend play with drawing!  Just print and open up your restaurant. The Crayon Cafe – Fast Food Menu is a creative way to open up your very own doodle cafe. This digital download includes three blank place mats, fast food menu, guest check, open sign, today's special board and 12 how to draw pages for all the items on the menu.  The children can distribute the menu, take orders and draw the food on the blank placements by following the step by step directions.
Christmas Crayon Cafe – combines pretend play with learning how to draw.  This digital download (PDF format) includes 34 pages of printables to open up your own "Christmas Cafe" where you can serve up drawings to your customers.
Pretend Play Masks – This includes 20+ masks to print and role play. The download is in color and black and white (color it yourself). Play pretend, retell stories or use with different classroom themes. The masks included are: owl, peacock, fox, bear, goldilocks, little red riding hood, wolf, pig, superheroes, princesses, pirates, clowns, firefighter, police officer, boat captain, chef and construction worker. Print, cut out and laminate for easy, open ended pretend play fun!