Description
Are you a busy mom or dad who needs activities to keep the kids entertained? The Pretend Play Bundle is just what you are looking for!
We know how it feels to literally pry your children away from technology or to hear the constant hum of "I'm bored".  The creators of apps and video games know the exact psychology behind keeping our children digitally sedated for hours!  How can we even compete?
Well, guess what?  Good old fashioned play can compete.  That is how children have been occupying and entertaining themselves since the dawn of time.  Children learn through play – it is as simple as that.
BUT, today's parents do not have any time to be the entertainment committee!  Don't worry – as a Physical Therapist and a mother of six I have created Growing Play activities that have already helped thousands of customers just like you entertain the kids!
HOW THE PRETEND PLAY BUNDLE WORKS:
1. Immediately download your 9 pretend play packets.
2. Give a play packet to your children.
3. Children play while you get stuff done!
Stop feeling stressed and overwhelmed.  Don't let motherhood guilt take you over after you realize your kids have been watching a screen for hours.  Instead, start your children playing today!
BENEFITS OF THE PRETEND PLAY BUNDLE
Children will play independently so you can get stuff done!
Inspire creativity.
Increase imagination.
Encourage independence.
Facilitate literacy through play.
Activate the brain.
ALL 9 TITLES ARE DIGITAL DOCUMENTS.  They are PDF documents that will be delivered electronically immediately following payment.
School Pretend Play Packet – digital download includes 28 forms and signs to play pretend school! You be the teacher with a lesson plan, bulletin board, file folders, weather charts, calendars, job charts, hallway passes, job charts and more!
Hospital Doctor Pretend Play Packet digital download includes 22 forms and signs to play pretend hospital and doctor.  Check in desk, insurance cards, appointment cards, emergency forms, plan of care, nursery forms and more!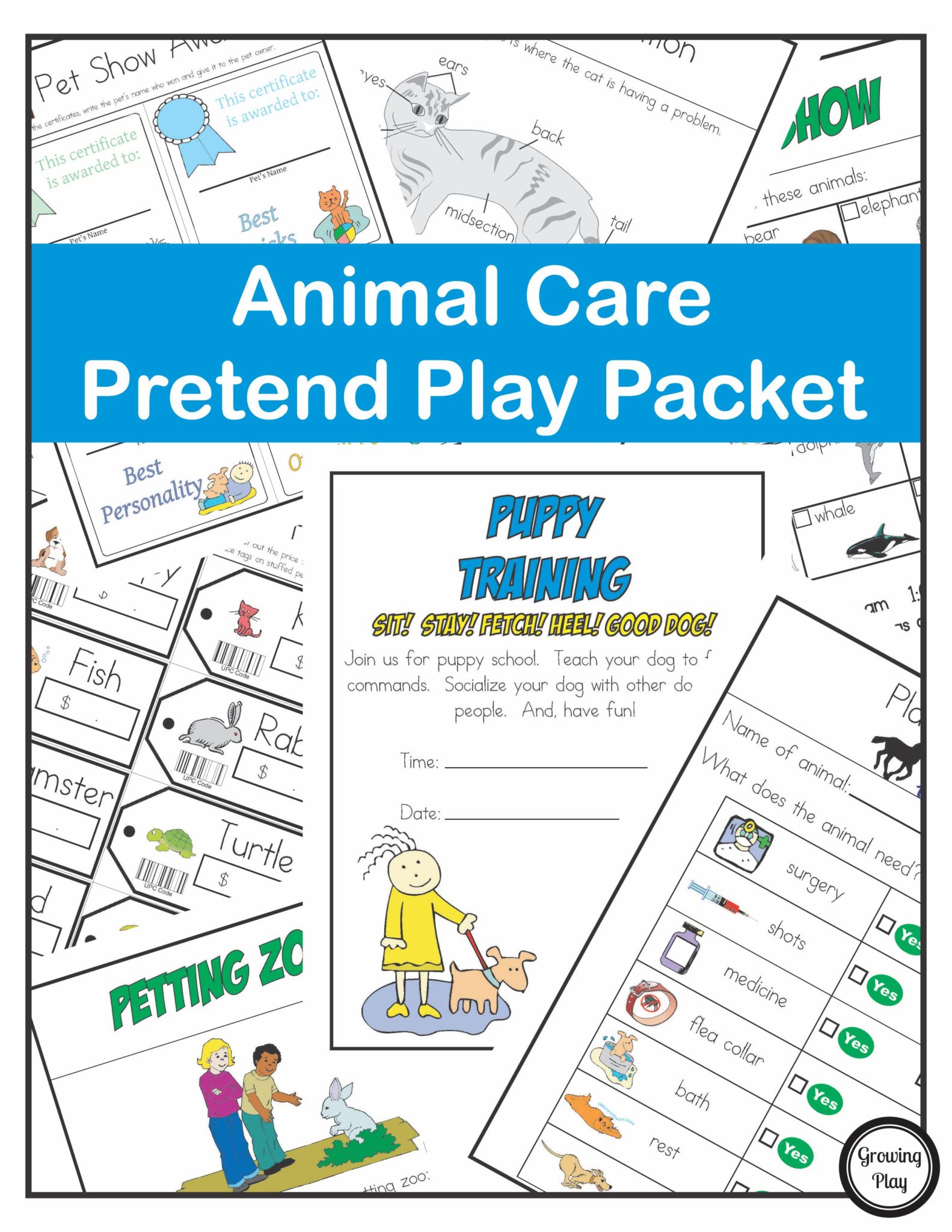 Animal Care Pretend Play Packet: The Animal Care Pretend Play packet includes 28 forms and signs to play pretend:
Veterinarian – provide medical check ups for the animals
Pet Store – sell pets, food and write receipts
Pet Show – organize a pretend pet show, judge it and give out awards
Zookeeper – open up a pretend zoo, sell tickets and plan animal shows.
Secret Agent Pretend Play Packet: The Secret Agent digital download packet includes secret agent oaths, club, handshakes, secret codes, secret missions, handwriting analysis, lie detecting and more!
Candy Shop Pretend Play: digital download includes printables to create candy store items, business cards, order forms, menus, create your own candy forms, candy bucks, chocolate bar wrappers, sale signs and more.
Transportation and Travel Pretend Play Packet includes everything you need to play pretend airport, train station, department of motor vehicles and cruise ship. Plan a vacation, grab your tickets and head to your imaginary destination.
Crayon Cafe – Here is a wonderful download that combines pretend play with drawing!  Just print and open up your restaurant. The Crayon Cafe – Fast Food Menu is a creative way to open up your very own doodle cafe. This digital download includes three blank place mats, fast food menu, guest check, open sign, today's special board and 12 how to draw pages for all the items on the menu.  The children can distribute the menu, take orders and draw the food on the blank placements by following the step by step directions.
Post Office Pretend Play Packet – digital download includes 20+ signs, forms, and props to play pretend post office.  You can be the postal clerk, the mail carrier, write letters, mail postcards and more! Kids of all ages will love this packet to take playing pretend a step further.  Perfect for preschool post office theme!
Pretend Play Masks – This includes 20+ masks to print and role play. The download is in color and black and white (color it yourself). Play pretend, retell stories or use with different classroom themes. The masks included are: owl, peacock, fox, bear, goldilocks, little red riding hood, wolf, pig, superheroes, princesses, pirates, clowns, firefighter, police officer, boat captain, chef and construction worker. Print, cut out and laminate for easy, open ended pretend play fun!
ADD THE PRETEND PLAY BUNDLE TO YOUR CART.