Crayon Fingers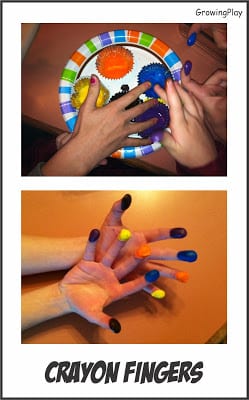 After seeing this blog post about finger painting with melted crayons,  I remembered how much I used to love sticking my finger tips in the cooling wax of a candle as a child.  I had to do this with my children.  We melted some old broken crayons in disposable cupcake holders.  It only took a few minutes in a low temperature oven.  Once melted, we let them cool briefly and then I tested it.  Making sure it was not too hot for them, they started dipping the tips of their fingers in the melted crayons.
They all dipped their fingertips in and enjoyed the process.  Some tried writing with them but that was not nearly as fun as peeling it off or moving the tips of your fingers to try and crack the melted wax.
The kids asked to repeat this process several times.  The melted wax cools quickly so I would just pop it back in the oven for less than one minute, check the temperature again and let them start dipping.
Fun activity for sure.
Obviously, the wax can get very hot so supervise very closely!