Screen Time in Adolescents and Depression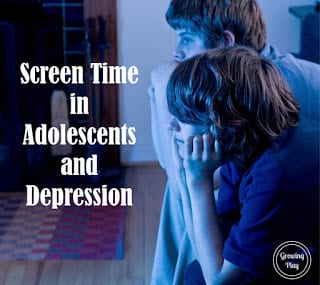 A recent research article in Preventive Medicine reviewed data on 435 adolescents over a period of 12 years to determine if there is an association between screen time in adolescents and depressive symptoms in young adulthood.  Data and information was collected on television viewing, computer use and total screen time for the adolescents.
The results indicated the following:
prolonged TV or screen viewing, but not computer use, was related to more depression symptoms in young adulthood.
no significant associations were observed between adolescent computer use and depressive symptoms in young adulthood.
The researchers concluded that limiting screen time, particularly television viewing, during adolescence may be important for preventing depression in young adulthood.
Reference:  Anders Grøntved et al. A prospective study of screen time in adolescence and depression symptoms in young adulthood.  Preventive Medicine. Volume 81, December 2015, Pages 108–113
In can be hard to keep adolescents and teens occupied during down time when they are home.  Set the Record is a super fun game for all ages that only requires stuff you have around the house.  It can be played with one or more players.  We have played this game with different groups of teens and they always ask to play it again.  FIND OUT MORE about Set the Record.