Easy Birthday Party Dessert
Easy Birthday Party Dessert
Do you dread birthday party desserts for children?  I know I am never sure what to make for a large group of kids who will be on a sugar high while at your house for a few hours.  Occasionally, I will look on Pinterest for ideas and spend HOURS recreating the amazing themed dessert.  But, alas it never looks even close to the picture on Pinterest.  Other times, we have done make your own ice cream sundae which is a big crowd pleaser but super messy and sticky.  Everyone wants to do their own toppings and then the whipped cream… ugh you get the picture.  So we tried this super EASY birthday party dessert that everyone loves – Birthday Bark!
Ingredients for the Easy Birthday Party Dessert
Ingredients:
a sleeve of Saltine crackers
2 sticks of butter
3/4 c. brown sugar
bag of white chocolate chips
sprinkles
Preheat oven to 350 degrees.  You will also need parchment paper and a jelly roll pan.
How to Make the Easy Birthday Party Dessert
Line the jelly roll pan with the parchment paper.
Place the saltine crackers on the pan all next to each other.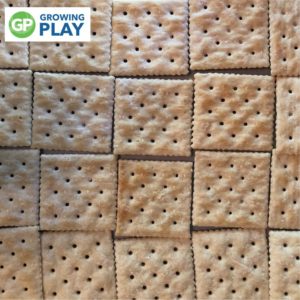 Put the two sticks of butter and the brown sugar in a microwave-safe bowl.  Microwave for about 3-4 minutes stirring occasionally until the mixture bubbles.  You could do this step on the stove top.
Pour the bubbly mixture evenly over the top of the saltine crackers.  Put in the oven for 15 minutes.
Remove from oven and sprinkle the top with the white chocolate chips.  Spread evenly as they melt.  You might need to put it back in the oven to melt the chips a little bit.
Once the chocolate melts, pour the colorful sprinkles on top.
Let cool for 15 minutes in the freezer.  Remove the parchment paper from the bottom of the bark.  Use your hands to break the bark into small pieces.
That's it!  Serve it with a napkin and you are good to go.  It is super tasty, not too messy and easy to serve.  No plates, forks or spoons needed.  Store it in an airtight container.
Need more birthday ideas?  Check out these themed packets to compliment your little one's birthday parties: