10 Dr. Seuss Inspirational Quotes
Theodor Seuss "Ted" Geisel , aka Dr. Seuss, has written more than 60 books for children. Sometimes as you read through his book, you get caught up in the rhyming and the playful text. In reality, some of his children's book are extremely profound and provide inspirational messages. Here are my most favorite 10 Dr. Seuss inspirational quotes.
I chose these quotes because not only are the inspirational but they are motivational. They can help children (and adults) develop a growth mindset to believe in themselves and their abilities.
The quotes are so meaningful to me that I created 10 word search puzzles and posters for students to challenge themselves to find all the words in the quotes. Check out the Dr. Seuss Word Search Puzzle and Poster Packet here.
"Only you can control your future."
You have the power and the ability to determine what your future holds.
You Have to Be Odd, To Be Number One.
Wow! This one is definitely one of the best Dr. Seuss inspirational quotes. We all have unique talents and gifts. When we embrace those gifts and be ourselves, we are the best we can be!
---
---
Why Fit In When You Were Born to Stand Out
This too goes along with being yourself. You were born to be uniquely you. Don't try to fit it with everyone else. If we all did, the world would be a boring place – change the world! Stand out!
Don't Cry Because It Is Over. Smile Because It Happened.
I love this one! Do you ever leave a vacation or a family gathering and feel sad? Instead of feeling down, turn it around and appreciate that you got to experience that moment. It really changes how you look at life.
Dr. Seuss Inspirational Quotes #5 – Don't Give Up. I Believe in You All.
This one is PERFECT to hang up in any classroom. Teachers believe in their students. Let them know with a reminder.
Unless Someone Like You Cares a Whole Awful Lot, Nothing is Going to Get Better. It's Not.
This Dr. Seuss inspirational quote reminds us that as community members we have to work hard to make change and improve our society.
Dr. Seuss Inspirational Quotes #7 – You're never too old, too wacky, too wild, to pick up a book and read to a child.
This one sure is true! One of my all time favorite things to do is read picture books to my children. Every night we snuggle up in bed and read a few books. So cozy!
So, open your mouth, lad! For every voice counts!
We must always let our opinions be known. Whether you are strong or weak, young or old, happy or sad, your opinion counts!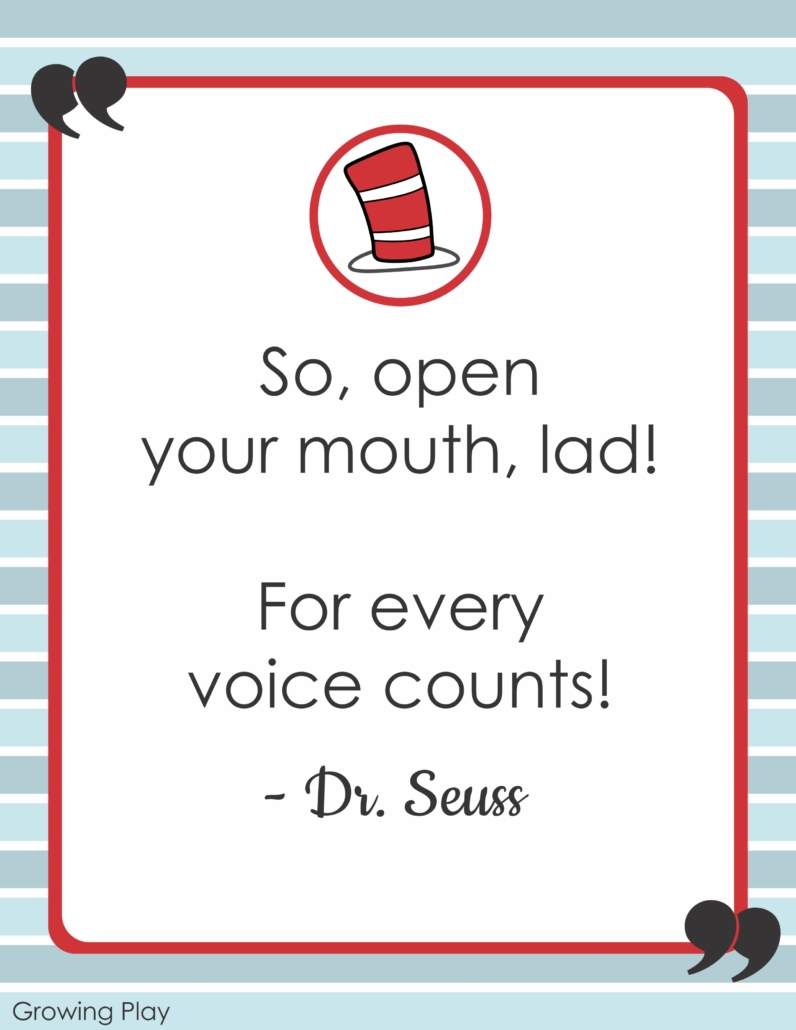 Dr. Seuss Inspirational Quotes #9 – Today I shall behave, as if this is the day I will be remembered.
This quote gives a friendly reminder to be aware of our behaviors and actions. Would you want someone to remember how you acted or behaved today?
You're off to great places. Today is your day. Your mountain is waiting so… get on your way!
This quote is great when you need a little kick in the pants. You will accomplish amazing things but you have to take action. There are mountains to climb to reach your goals but we all have to take that first step and today is the day!