Unicorn Joke Puzzle
Looking for a fun unicorn activity with a twist to entertain the kids? This unicorn joke puzzle is a FREE printable to challenge your unicorn loving children or students.
How Does the Unicorn Joke Puzzle Work?
All you need to do is these three steps:
Sign up to download the freebie at the bottom of the post.
Give a pair of scissors and the puzzle to each unicorn loving kid.
The children can cut up the squares and put the puzzle together to solve the unicorn joke (the solution is on page 2 so don't peek).
When Is A Good Time to Use This Puzzle?
Kids would love to complete this unicorn joke puzzle when:
there is a unicorn birthday party and you need a quieter activity.
they are done with an assignment early and need to keep busy.
you are having a classroom party and need a quieter station.
the kids unplug.
indoor recess.
What Skills Does this Puzzle Work On?
Puzzles are fun to complete no doubt but did you know that they also work on brain power! Children are working on the following skills with this unicorn joke puzzle:
scissor skills
visual spatial skills
visual discrimination skills
visual motor skills
visual closure skills
Need More Unicorn Activities and Puzzles?
Can you solve the Unicorn Mystery? Decipher the 5 unicorn clues and guess the unicorn! Perfect for Unicorn lovers. If you like the game Guess Who you will love this activity!
Unicorn FunThis digital download includes 20+ games, activities and puzzles to encourage playtime, visual perceptual skills and physical activity.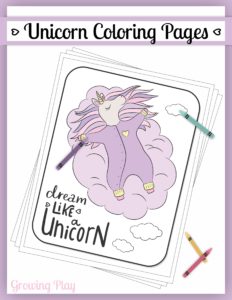 Unicorn Coloring Book This super cute Unicorn Coloring Book (digital download) includes 12 adorable black and white unicorn pictures with phrases to color. Plus, one BONUS birthday coloring page. You can even edit the name to include your child's name right on the Unicorn birthday coloring page.
Download your FREE Unicorn Joke Puzzle Here
Thank you for your interest. Sign up to receive the weekly email newsletter and other announcements from Growing Play. You will be redirected to the freebie. If you can not see the sign up box, email us at info@growingplay.com and reference this freebie.