Grey Wolf Facts for Kids
Did you know that the grey wolf is actually a dog? That's right! Grey wolves are the largest members of the canine family and they can actually be trained to act just like domestic dogs. Some people even have wolves as pets! I bet you didn't know that. Well, guess what? There is so much more to learn about them, so enjoy these grey wolf facts for kids!
All About Grey Wolves
The scientific name for a grey wolf is canis lupus.
There are two main species of wolves: red wolves and grey wolves. However, there are more than 40 subspecies of wolves including the white wolf, Ethiopian wolf, Mexican wolf, arctic wolf, and timber wolf.
Characteristics of Grey Wolves
Grey wolves can weigh up to 130 pounds. The largest wolf and heaviest wolf is the Northwestern Wolf, also known as the Mackenzie Valley Wolf. The average male adult wolf of this wildlife species weighs 137 pounds! Adult females of this species weigh about 100 pounds on average, which is still considered high for a female wolf.
Wild wolves have a lifespan of between six and eight years, while grey wolves in captivity can live up to 14 years!
Grey wolves can run up to 35 miles per hour. Wow, that's really fast for these small animals!
Habitat of Grey Wolves
Grey wolves can be found in a wide variety of habitats across North America, Europe, and Asia. Grey wolf populations are located across two-thirds of all the land in the United States, including Alaska, Michigan, Wisconsin, and Wyoming. Are they any grey wolves in your area?
Typically, the grey wolf prefers to live in tundra conditions. Tundra regions are known for their dry climate and cold temperatures. Thankfully, the grey wolves have a thick coat of fur to keep them warm when temperatures fall below freezing.
Animal Coloring Pages
Grey Wolf Facts for Kids – Grey Wolf Packs
Grey wolves communicate with each other through a variety of means, including vocalizations, scent-marking, and body language.
Grey wolves are social animals and travel in groups, or packs. Typically, you will see six or eight grey wolves together as members of the pack.
Wolf pack members consist of wolf pups, young wolves, adult wolves, and an alpha pair, which is typically an alpha male and an alpha female. These are considered the pack leaders and are often the eldest of the pack.
Male grey wolves typically leave their packs once they reach adulthood, while females often stay with their families.
Grey Wolf Facts for Kids – Hunting and Diet
Grey wolves are excellent hunters, and can kill prey that is much larger than themselves.
Grey wolves are omnivorous, and eat a variety of different things, including plants, small mammals, and carrion.
Grey Wolf Litters
The grey wolf litter size ranges from four to six pups or cubs.
Grey wolf cubs are born blind and deaf, and rely on their parents for food and protection. Once matured, grey wolves develop extremely sharp eyesight.
The Importance of Grey Wolves
Grey wolves play an important role in regulating the populations of their prey species. They are located towards the top of the food chain in many of their habitats.
The fur of grey wolves were once a very valuable commodity used to make coats, hats, and other garments.
Grey wolf body parts are used in traditional Chinese medicine. One of the more popular body parts used in this practice is the brain of the grey wolf. Would you take medicine with grey wolf brains?
Grey Wolf Facts for Kids – The Population of Grey Wolves
Grey wolves were nearly wiped out by hunting and habitat loss in the early 20th century, but have since made a comeback. Grey wolf populations are currently increasing in Europe, North America, and other parts of the world.
Grey wolves are currently listed as a species of Least Concern by the IUCN, meaning they are not currently at risk of extinction.
In many countries, grey wolves are currently protected by law to prevent another population dip.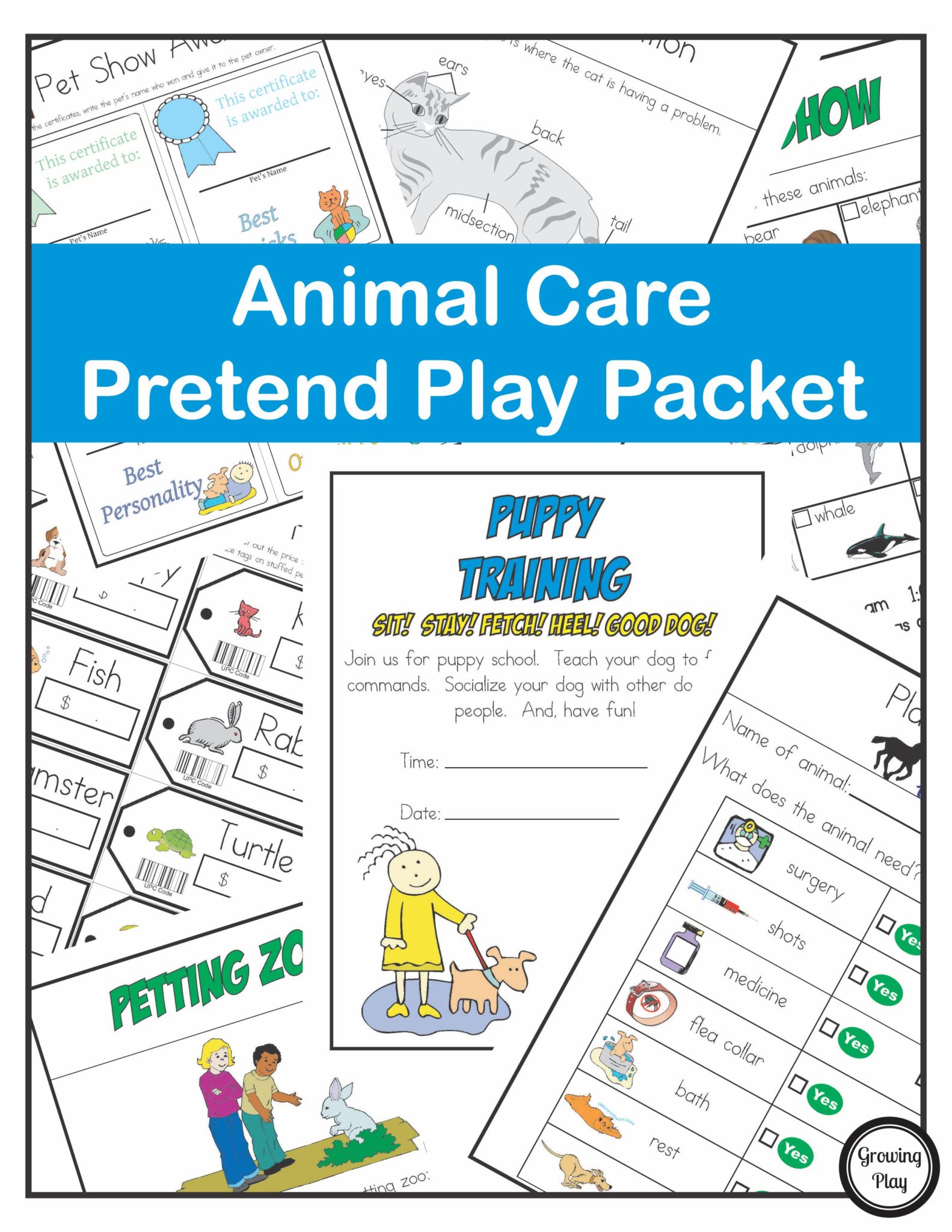 Animal Care Pretend Play Packet
More Interesting Grey Wolf Facts for Kids
You may notice grey wolves on signs and other decorations. Grey wolves are often used as symbols of wilderness and wildness.
Did you know grey wolves can swim? That's right! Grey wolves can swim long distances, up to eight miles at a time! This is why grey wolves can be found near bodies of water.
Wolves are often the bad guys in fairy tales. They is the big bad wolf in the Three Little Pigs. The wolf takes over Little Red Riding Hood's Grandma's house. How about the forest scene in Beauty and the Beast – those wolves are scary!
Let's Summarize!
Now that you've learned all about the grey wolf species, let's summarize!
Grey wolves live in packs and communicate with each other through a variety of vocalizations. The leaders of the pack are primarily responsible for communicating with others. All members of the pack are expected to keep up with paces of up to 35 miles per hour! That's how fast grey wolves can run.
Not only does the speed of grey wolves make them incredible hunters, but they are also very powerful predators. They have sharp teeth to take down large prey, such as moose and elk. Grey wolves feed primarily on ungulates, but will also eat smaller animals, such as rabbits and rodents.
Look out for grey wolves the next time you are outside. Grey wolves can be found in North America, Europe, and Asia. They typically reside in tundra conditions although they can travel long distances and often do so for hunting purposes. Grey wolves are located towards the top of the food chain and their population is currently stable or even increasing in many parts of the world.
WANT MORE FUN FACTS FOR KIDS?
Check out these fun facts for kids here and browse all the other topics at the bottom of the post.
DOWNLOAD YOUR FREE GREY WOLF PDF PACKET
Download the fun and FREE printable below!