Sudoku for Kids Printable PDF – FREE
Have you ever played Sudoku? It's a really fun, challenging game that can keep you occupied for hours. If you're looking for a new activity to keep the kids entertained, why not try Sudoku? The great news is that we have printable Sudoku puzzle PDF files just for kids (and adults who like easier puzzles)! Just print the Sudoku for Kids printable PDF out and let the problem solving and fun begin with these sudoku games.
The FREE puzzle book is 202 pages! Print what you want – three levels of difficulty: easy, medium and hard.
Why Sudoku is good for kids
Sudoku is a great way for kids to develop logical skills and learn logical reasoning. The logic game puzzles are easy to understand and solve, and the game is great for developing problem-solving skills. Sudoku is also a great way for kids to learn about numbers and how to work with them. Sudoku is a great way for kids to learn about logic and reasoning, and it's a lot of fun too! Don't forget about the critical thinking skills and cognitive skills you are practicing with these kids sudoku puzzles.
How to Play Sudoku
Sudoku is a logic-based puzzle that has become a worldwide sensation. The rules of sudoku are to fill in the empty cells of a 4×4, 6×6, or 9×9 grid with numbers so that each row, column, and 3×3 region contains all of the digits from 1 to 4, 1 to 6, and 1 to 9.
While this may sound easy, Sudoku is actually a challenging game that can take hours to complete. However, there are a few tips and tricks that can help you solve Sudoku puzzles more quickly.
First, look for empty cells that can only be filled in with a single number. These are called "singles." Then, look for empty cells that can be filled in with two numbers. These are called "doubles." Once you have located all of the singles and doubles, you should be able to solve the puzzle fairly easily. With a little practice, you'll be solving Sudokus like a pro in no time!
600 Free Printable Sudoku Puzzles for Kids from Growing Play
Looking for some easy Sudoku puzzles for kids? Growing Play has you covered with 600 free printable puzzles! Just scroll down the page to get access to the FREE Sudoku Puzzle Book PDF – perfect for kids just getting started with Sudoku. Fill in the missing numbers and check if you were right – the solutions are included too!
And if your kids are already Sudoku experts, don't worry – there are plenty of great number puzzles at higher levels too. So why not print out a few puzzles and start the fun today?
Here is what is included in the Free Kid Sudoku Puzzles:
Easy Levels – 150 4×4 Puzzles and Solutions (easy puzzles for younger kids or beginners)
Medium Difficulty Level – 150 6×6 Puzzles and Solutions
Hard Difficulty Level – 300 9×9 Logic Puzzles and Solutions
Start practicing your simple logic puzzles and math skills today!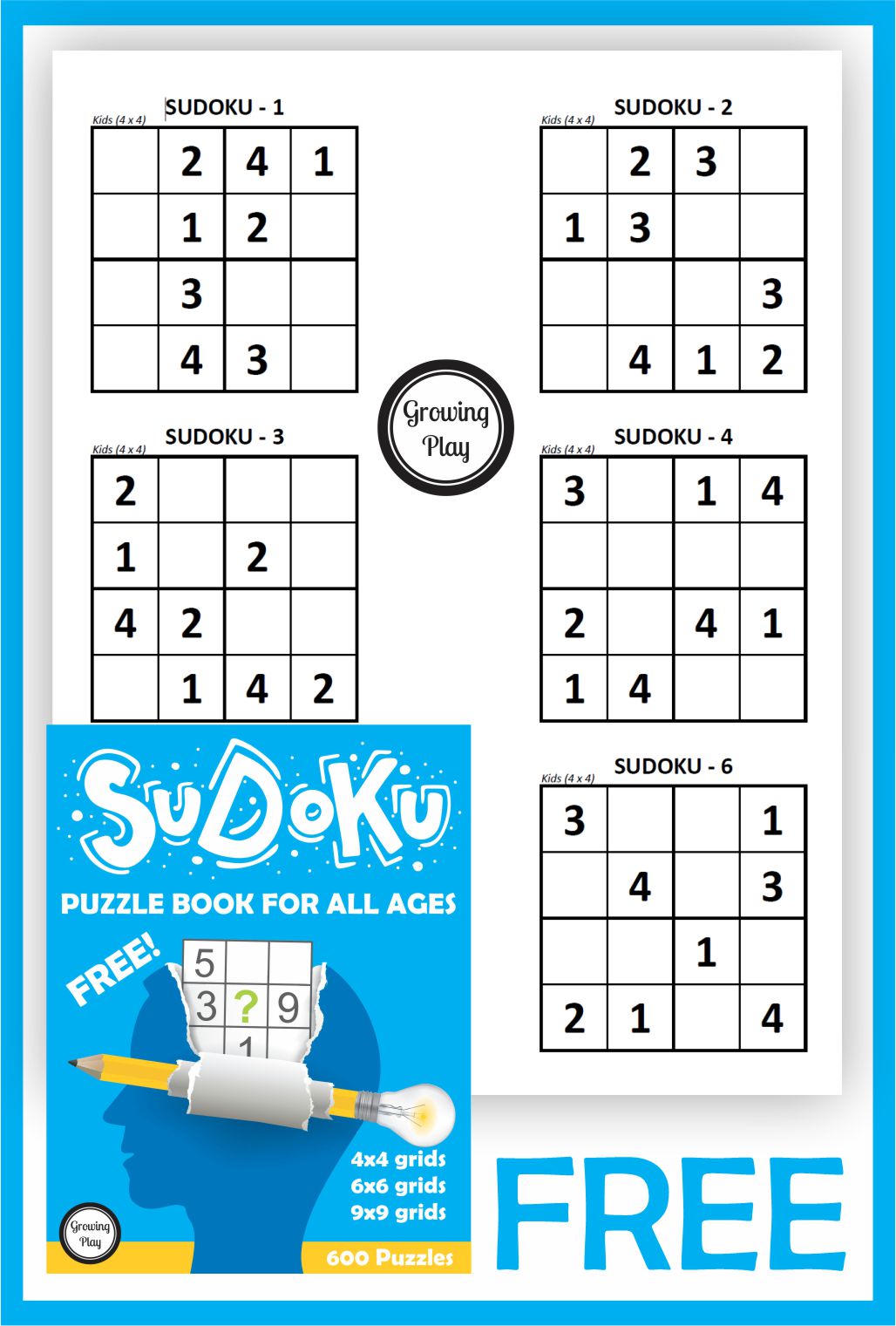 Tips and tricks for solving Sudoku puzzles
Sudoku puzzles are a great activity for people of all ages. They can be frustrating at first, but with a little practice, anyone can become a Sudoku master! Here are a few tips and tricks to help you get started:
Start by looking for "singles." These are cells that can only be filled in with a single number. Once you have found all of the singles, the puzzle should be much easier to solve.
Now look for "doubles." These are cells that can be filled in with two numbers.
Finally, look for "triples." These are cells that can be filled in with three numbers.
With a little practice and persistence, you'll be able to solve any Sudoku puzzle!
Now that you know all about Sudoku puzzles and why they're great for kids, it's time to get started! print out our free Sudoku puzzles or sign up and get access right now to your free puzzle book. With these tips and tricks, your kids will be on their way to becoming Sudoku pros in no time.
DOWNLOAD MY FREE SUDOKU FOR KIDS PRINTABLE PDF PUZZLE BOOK
Start working on your logic skills today with your very own sudoku puzzles. Print this out for your kids or give it as a gift. Enter your email to subscribe to the Growing Play email list. If you already subscribe, you can enter your email again. You will not be signed up twice. You will be redirected to your free sudoku book for kids to download.
More Fun Puzzles
Collection of Word Search Puzzles