Basketball Mazes – Free Printables
Basketball mazes are a fantastic, fun way to keep kids entertained. They can be printed out, used as part of an activity like coloring or even included in a game! These FREE basketball mazes provide various levels of difficulty so everyone can enjoy them regardless of their age or ability.
The basketball maze is great for teaching problem-solving and critical thinking skills. They can also be used to encourage concentration, focus and even teamwork. With the various levels of difficulty of these maze puzzles, they are appropriate for both adults and children alike.
Benefits of Completing Mazes
Mazes are great for developing problem-solving skills, hand-eye coordination and visual processing. They help sharpen the mind, increase concentration and focus, as well as boost creativity. Additionally, mazes can be used to introduce coding concepts to younger kids in a fun way! Completing a word search is super fun too!
Using these FREE basketball mazes is a great way to get kids engaged and interested in problem-solving. Make sure to print out plenty of copies for your family, friends or classroom so everyone can have a go! Have fun!
These maze puzzles are suitable for first grade through sixth grade, middle school and older!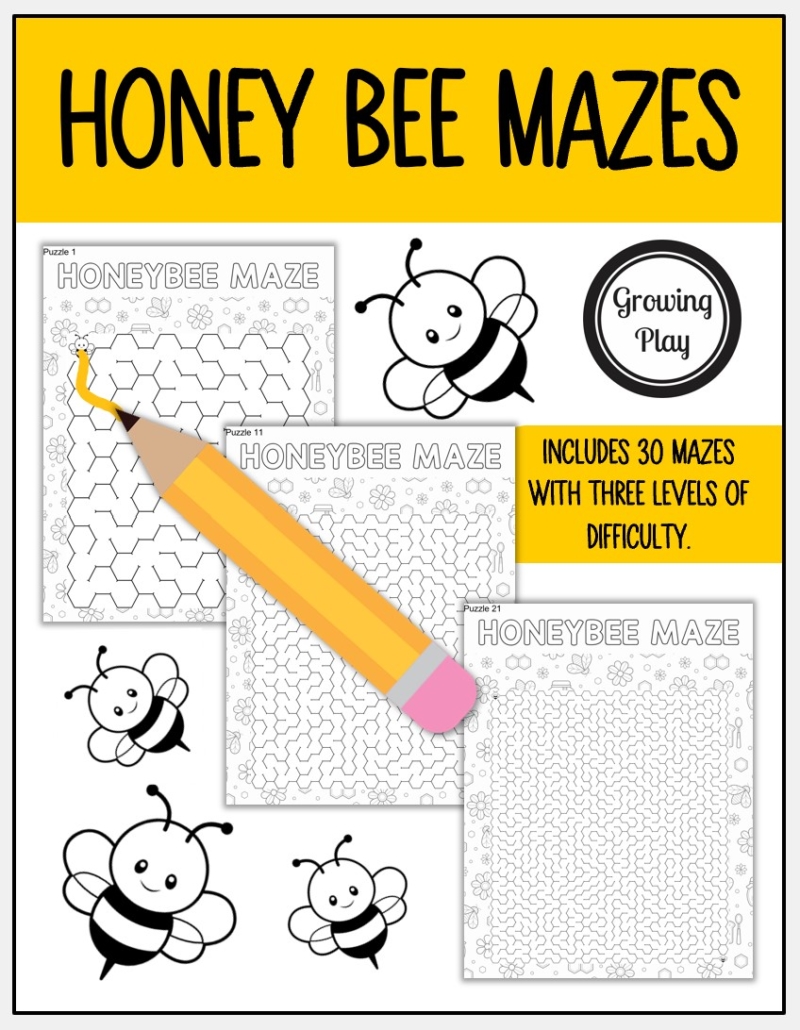 Bee Maze Packet
Why Use Basketball Mazes?
Why not? March madness is an super fun time of year to get involved in the sport of basketball. These mazes and other printables help to encourage children to use their critical thinking and problem solving skills about the sport they love!
Want more maze fun? You can check out this Maze book for younger students or this free printable mazes PDF packet for older students.
When Is a Good Time to Use the Basketball Mazes?
This basketball activity book includes 5 FREE printable mazes are perfect for:
physical education class
keeping the kids busy during March Madness basketball tournament
tossing in a gift bag for a sports themed birthday party
encouraging the kids to become interested in the sport
indoor recess
Need More Ideas?
You read more about fun basketball facts for kids and try this March Madness Word Search printable puzzle.
Download your Copy of the FREE Basketball Mazes PDF Printable Packet
Sign up to receive the Growing Play newsletter to get access to the free packet.
Some of the illustrations in the ebook were created by Iva Villi and used under a Shutterstock license