Ice Cream Word Search Free Printable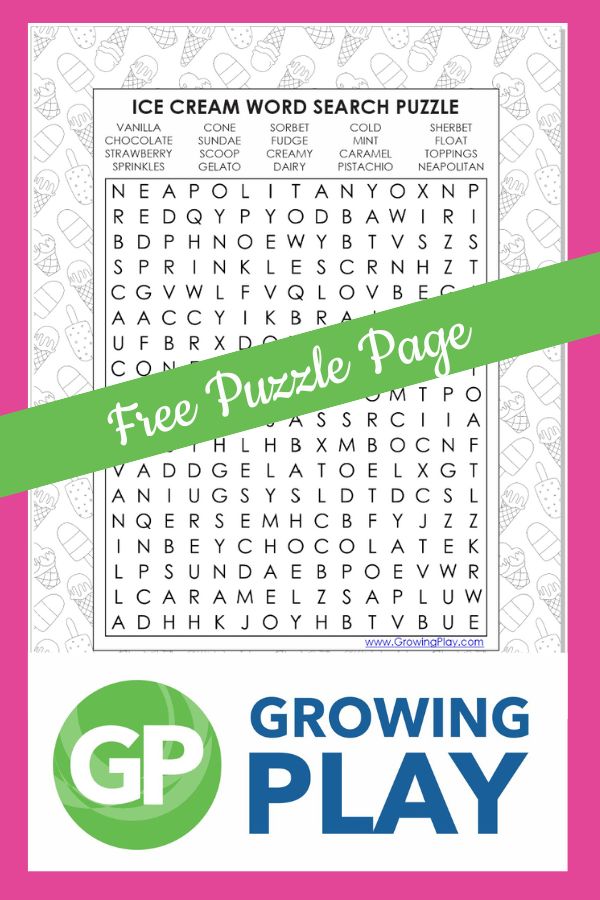 Get ready to have some fun with our delightful Ice Cream Word Search Free Printable! This is a fantastic way for kids and adults to learn about popular ice cream flavors, engage in a fun activity, and even give coloring a whirl. The best part is that our ice cream word search is not just a puzzle, it's also a coloring page.
A Tasty Challenge
If you're a fan of word searches, you're in for a sweet treat! With this printable puzzle, you can discover all your favorite ice cream treats hidden amongst the jumble of letters. The difficulty level is manageable, making it a fun word search for kids and adults.
You can extend this activity by learning about Ice Cream Facts for Kids and adding a free coloring book too!
List of Words
Ready to dive into the creamy world of our word search? Here's the list of words you'll be hunting for. Keep a keen eye out; some may be more challenging to find than others.
VANILLA
CHOCOLATE
STRAWBERRY
SPRINKLES
CONE
SUNDAE
SCOOP
GELATO
SORBET
FUDGE
CREAMY
DAIRY
COLD
MINT
CARAMEL
PISTACHIO
SHERBET
FLOAT
TOPPINGS
NEAPOLITAN
Easy to Download and Print
This Ice Cream Word Search Free Printable is easy to get. Just click on the download link to access the PDF file. Print out the black and white design onto your favorite paper. You could also print on brightly coloring paper if you wish.
Extra Fun with Coloring Page
But wait, there's more! Behind of your ice cream word search, you'll find a delightful coloring page. Perfect for those moments when you want to take a break from the puzzle and let your creativity run wild.
Great for Classroom Use
Teachers, take note! This is a great way to introduce new vocabulary or even foreign language terms related to ice cream. Our word search maker has designed this puzzle to be suitable for classroom use. It's an exciting method to keep the learning process engaging and fun.
Answer Key and Terms of Use
The answer key for the ice cream word search can be found at the end of the PDF file. It's a quick way to check if you've found all the hidden words correctly.
Before downloading and using our word search templates, we recommend reading our Terms of Use and Privacy Policy.
More Fun Puzzles
These free word search puzzles are available on our website and can be downloaded instantly. You can check out all of our Word Search Puzzles Printable Collection here.
Conclusion
Get ready to dive into a world of sweetness the next time you decide to take on a puzzle challenge. Our printable ice cream flavors word search puzzle is sure to keep you entertained and make learning about ice cream even more enjoyable. Happy searching and coloring, ice cream lovers!