Water Cycle Word Search Free Printable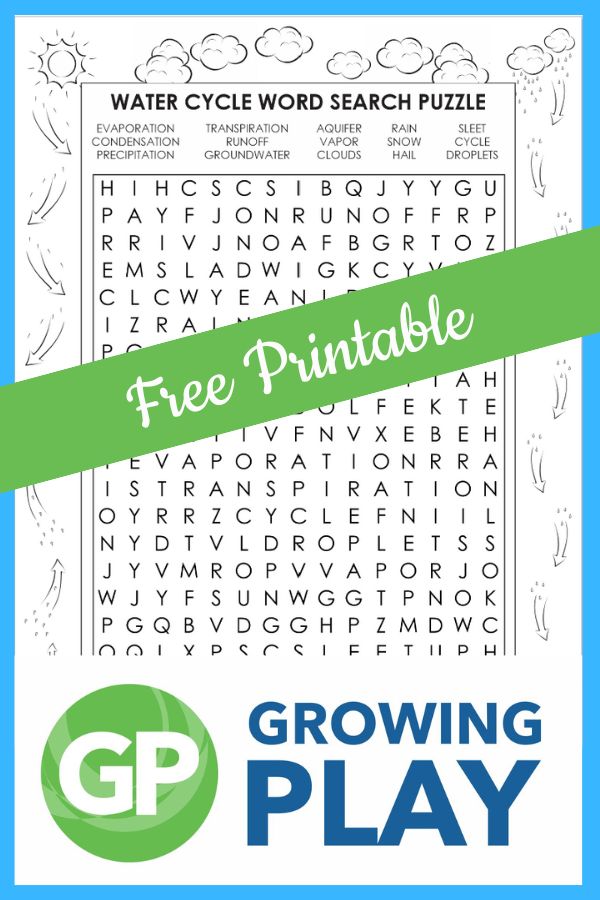 Are your students working on learning about the water cycle? If you enjoyed our post on Water Cycle Facts for Kids, you're in for a treat! Today, we're diving deeper into the topic with a water cycle word search that's not only fun but also educational.
Why Word Searches are a Great Way to Learn
Word searches are a great activity for kids to reinforce their vocabulary terms. They not only challenge the mind but also enhance visual discrimination skills. When children look for hidden words in a grid of letters, they're actively engaging in a fun activity that helps reinforce the science concept they're learning. It is great for early elementary school such as 2nd grade, 3rd grade and up! Special education students love this challenge as well. And it's not just limited to science; word searches can be a beneficial tool in learning other subject areas such as foreign language, english language arts, or even earth sciences!
Earth Day Packet – Games, Coloring Pages and Puzzles
Making Learning Fun with the Water Cycle Word Search
Water cycle word searches are themed puzzles that highlight the stages of the water cycle and its basic principles. While crossword puzzles are also popular, there's something about the hunt in a word search puzzle that excites young minds. Plus, for teachers, it can provide real-time student data about which water cycle vocabulary terms might need a bit more review.
Water Cycle Vocabulary to Look Out For
Before we delve into our exclusive feature, let's give you a list of words you can expect in our water cycle word search. Here is the word bank for this fun way to learn about the water cycle:
EVAPORATION
CONDENSATION
PRECIPITATION
TRANSPIRATION
RUNOFF
GROUNDWATER
AQUIFER
VAPOR
CLOUDS
RAIN
SNOW
HAIL
SLEET
CYCLE
DROPLETS
These terms encompass the basic principles and stages of the water cycle, making this a great science center activity, especially for grades 3-4 – science STEM activity.
Integrating the Word Search into Your Lesson Plans
Teachers, here's a golden tip! This water cycle word search isn't just a fun activity for early finishers. It can be a part of your digital classroom resources or even a homework assignment. With our water cycle task cards and pre-made digital activities, you can easily integrate this into your lesson plan supplements.
And if you're teaching slightly older kids, this water cycle word search can be a slightly more challenging way to introduce or reinforce earth science vocabulary terms. Paired with close reading or visual aids, it becomes a comprehensive, engaging STEM activity.
Download Your FREE Water Cycle Word Search Printable Today!
Ready to dive into this fun water cycle activity? Click below to download your FREE printable water cycle word search. And don't forget to check out our other resources, from water cycle – crossword puzzles to coloring book vocabulary terms. We even have a water cycle resources bundle for those looking for a comprehensive package. For our readers and educators, please remember to adhere to our privacy policy. Always use the latest version of Google Chrome for the best experience. As always, we encourage feedback. Let us know how the activity went in your class or home!