Amusement Park Boredom Buster Activity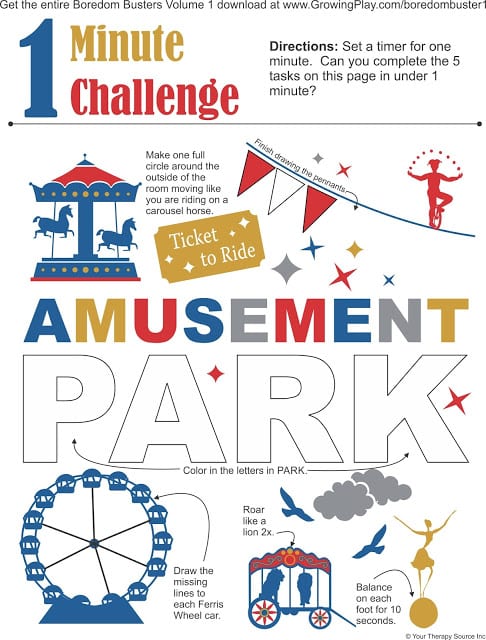 I am soooooo excited to announce our latest freebie from Boredom Busters Volume #1.  If you have school aged kids you know that feeling when boredom sets in.  Here is a new activity pack that will absolutely be a boredom buster!  To start, check out this freebie from Volume #1 – One Minute Challenge Amusement Park.  Can you complete all the activities in under one minute?
Boredom Busters Volume #1 is a HUGE download collection of 20+ activities to keep the kids busy. It includes mazes, activity challenges, puzzles, board game, quizzes, silly stories and more!  Almost all of the activities can be done with just one person!  This is not your usual puzzle book.  It is perfect for rainy days, road trips, camping, hotel downtime and anytime a child needs to unplug.
Boredom Busters encourage: executive functioning skills, logic, memory, physical activity and more.
You can get more information here.