Easter Eggs Scissor Activity
I am always trying to create simple, activities that parents can easily print and have ready to go for their kids. This Easter Eggs Scissor Activity is perfect for printing on colored paper to practice scissor skills and visual perceptual skills. Print the one-page FREE pdf Easter Eggs Scissor Activity (download below) on colored paper or white paper and the kids can color the eggs themselves. An adult can cut out the Easter eggs.
IDEAS FOR THE EASTER EGG SCISSOR ACTIVITY
Place the paper eggs on the table along with scissors. The child can practice cutting along the straight lines, curved lines and zig-zag lines to cut apart the eggs. After all the eggs are cut apart, mix the egg halves up and see how quickly the child can match the eggs back up.
You could also try:
hiding them in a sensory bin to find and put together.
placing them throughout an obstacle course for the kids to find and piece back together.
easter egg hunt – hide all the pieces
put in a cutting box for a great fine motor station in the classroom
WHAT SKILLS ARE KIDS WORKING ON WITH THIS ACTIVITY?
Students are practicing these skills:
fine motor skills
scissor skills
visual discrimination
visual closure
ACCESS YOUR FREE PRINTABLE HERE
Sign up to join the Growing Play email list. Enter your email below to download the FREE activity. You will be redirected to the freebie!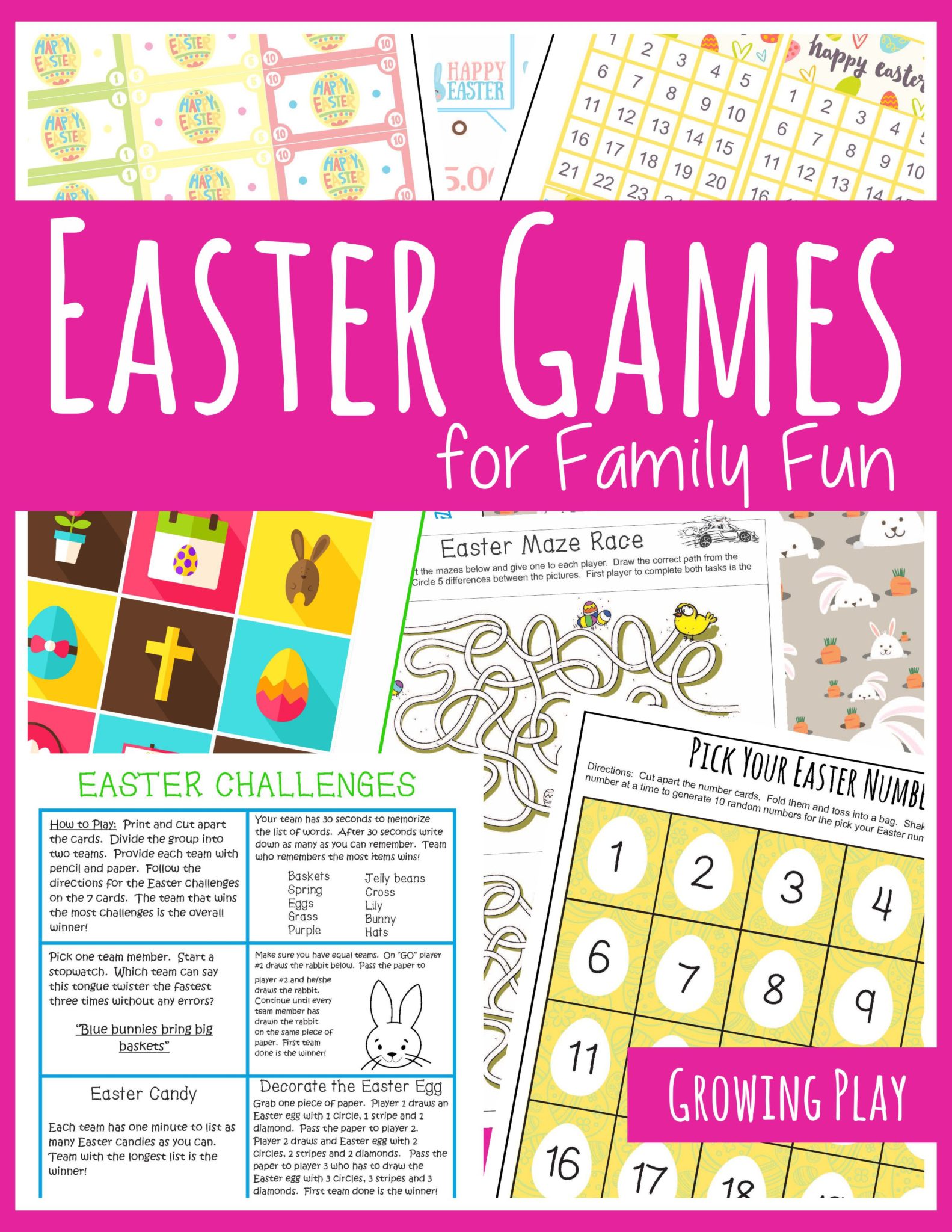 Easter Games for Family Fun – is an instant access download for 6 fun filled games to celebrate Easter. This packet includes 6 games to print and play:
1. Easter Egg Hunt (includes invitation) – hunt for Easter money and shop at the Easter store
2. Pick Your Easter Numbers – be the first player to get all 10 numbers correctly
3. Guess How Many Bunnies and Carrots – without counting guess how many bunnies and carrots are in the picture
4. Easter Puzzle Races – compete against a friend to see who can find all the words, complete the maze and find the differences
5. Easter Challenges – get a group together to face off for all different Easter games
6. Don't Eat It – eat as many candies, raisins or cereal that you can before you eat 'IT'