Four Processes of Pretend Play and Why It is Important
Four Processes of Pretend Play and Why It is Important
Did you know that children typically progress through age-related 'stages' or 'levels' of pretend play, based on four processes?  Piaget described three cognitive processes of pretend play and Nicolich proposed the fourth process.  You may ask why you need to know this information?  The reason is that when examined closely pretend play is HIGHER LEVEL THINKING for children and is an important part of child development.  Piaget interpreted pretend play as helping children gain flexibility in dealing with mental representations of reality.  Here are the four processes of pretend play:
Decontextualisation:  This involves the ability to represent symbolically, and recreate absent objects and past or imagined events.  Basically, when children grab a cardboard box and pretend it is an airplane this is decontextualisation.
Decentration:  This is the capacity to involve others in play, either inanimate figures or real people.  Now not only does the child pretend the box is an airplane, he/she may bring along a teddy bear passenger or ask a friend to be a co-pilot.
Sequencing: This shows that the child can logically combine actions and objects.  Now the child will get into the cardboard box, use a paper plate as the steering wheel, ask a passenger for a ticket and pretend to fly.
Planning:  This process involves the child organizing actions and materials based on prior thought.  The child can build upon previous experiences to expand the pretend play repertoire.
So if your child is pretending to be an animal, pilot, teacher, nurse, detective or a mommy realize that this skill is extremely important for higher level thinking, social skills, flexibility and stress reduction.
Do you need ideas to encourage pretend play with your child?  Check out these Pretend Play packets to help your child decontextualize, decentralize, sequence and plan (or just so they can PLAY)!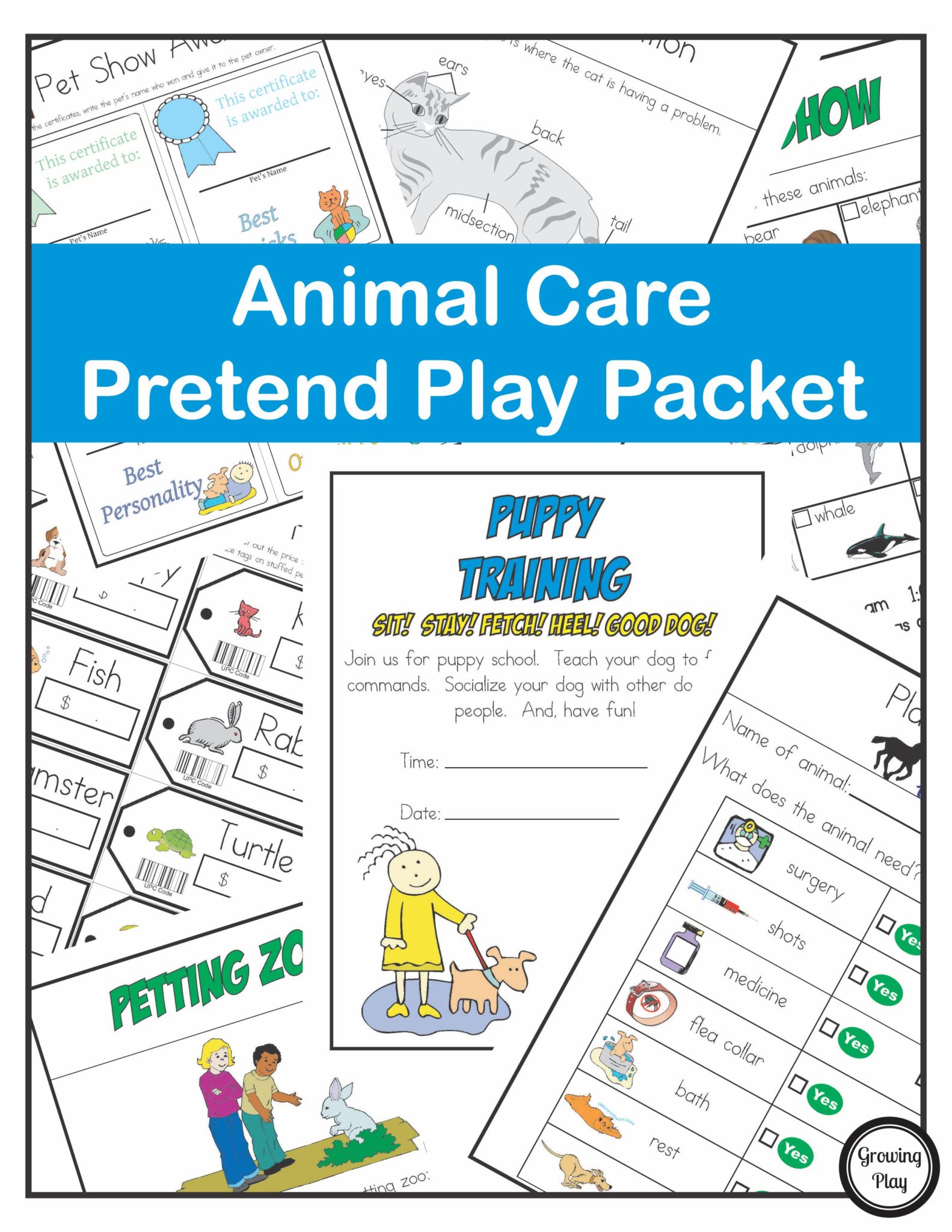 Animal Care Pretend Play Packet:  This digital download includes 28 forms and signs to play pretend: Veterinarian – provide medical check ups for the animals, Pet Store – sell pets, food and write receipts, Pet Show – organize a pretend pet show, judge it and give out awards and
Zookeeper – open up a pretend zoo, sell tickets and plan animal shows.  Kids of all ages will love this packet to take playing pretend a step further.  FIND OUT MORE.
Check out all of the pretend play titles.
Read more on pretend play:
20 Amazing Pretend Play Activities to Try Right Now
Pretend Play and Executive Function
Pretend Play and Early Literacy
Printable Flyer for Pretend Play
Reference:  Morrissey, A. M. (2014). Scaffolding, analysis and materials: Contributing factors in an unexpected finding of advanced infant/toddler pretend play?. Journal of Early Childhood Research, 12(2), 195-213.