Cute Animal Coloring Pages – Free Printables
Are you looking for the perfect way to entertain your kids and boost their creativity? Look no further. We have a fantastic collection of cute animal coloring pages that are sure to be a hit with children of all ages. You can download them for FREE at the bottom of this post.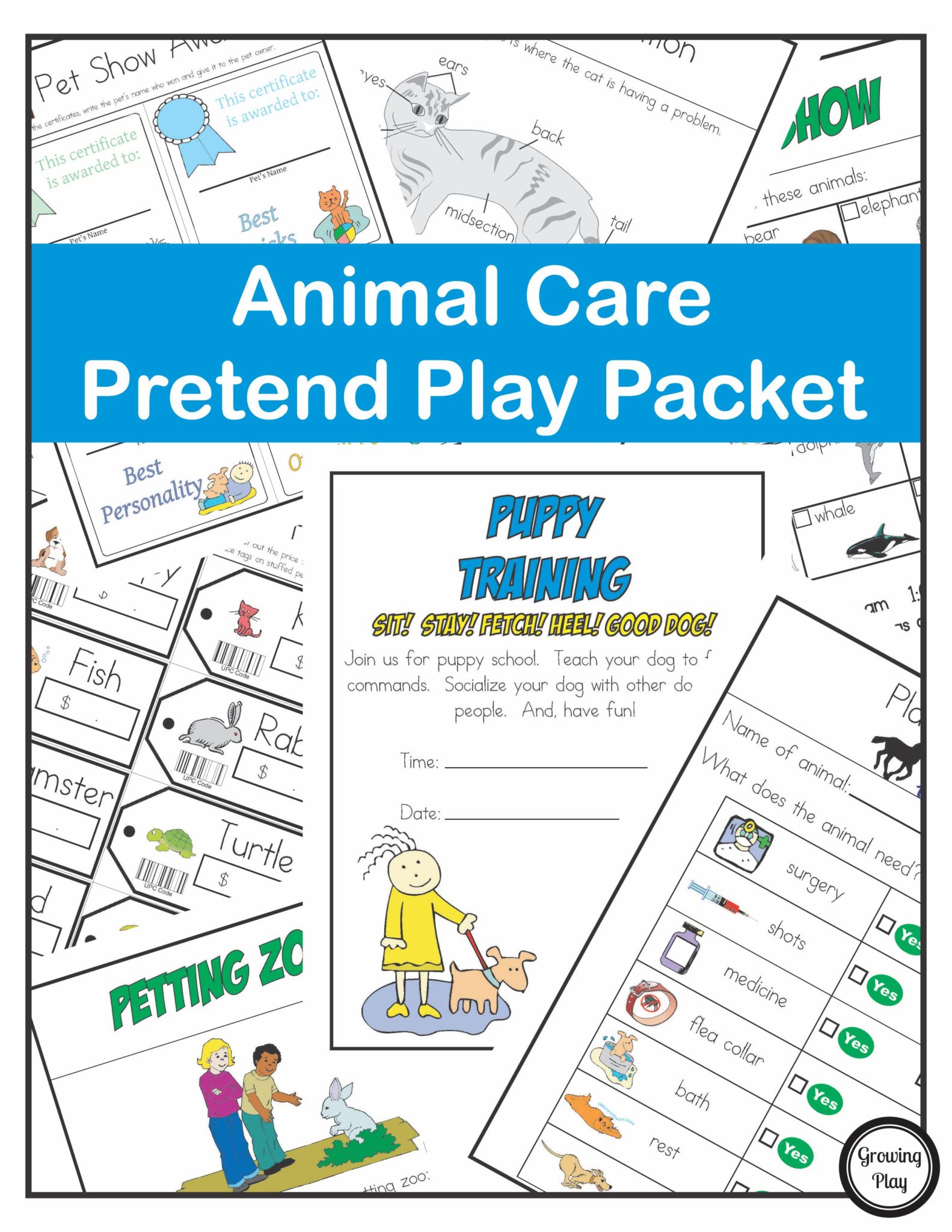 Animal Care Pretend Play Packet
Fun and Educational
Coloring is not just a fun way to pass time, it's also an excellent learning tool. Children color the pages with their favorite colors, developing color recognition and enhancing fine motor skills. By focusing on filling in the lines, they improve hand-eye coordination. Besides, coloring is an easy craft that promotes concentration and attention to detail. Older kids and adults can join in on the fun too, turning this into a great activity for family bonding.
Meet the Adorable Animals
Our collection of cute animal coloring pages includes a variety of animals. Your child can embark on a wild journey with a lion or a tiger, explore the forest with a deer or a raccoon, or frolic around with a rabbit. Maybe they'll hang out with a bear, stretch up high with a giraffe, sneak around with a fox, or chomp on bamboo with a panda. These aren't just any animals, but adorable baby animals. Younger kids will love these cute pets, and older children will appreciate these wild animals.
You can learn fun facts about animals here and get more free printables too! For instance, did you know that polar bears have black skin under their white fur to absorb heat better? Such tidbits turn coloring into a learning experience.
A Rainbow of Possibilities
When it comes to coloring, there are no rules. Encourage your child to use different colors, even ones you might not find on these animals in nature. Maybe they want to color the panda with colors of the rainbows or use vibrant colors for the lion. This freedom allows them to express their creativity and see the world in their own colors.
More than Just Zoo Animals
Our collection isn't limited to zoo animals. There are also sea animals and even unicorn coloring pages that you can find on our blo. These free cute animal coloring pages provide hours of coloring fun and offer an easy way for your child to learn about different kinds of animals.
Circus Worksheets Mystery Puzzle
Printable Animal Coloring Pages
Each of these adorable animals comes in a free printable coloring page. All you need to do is download the PDF coloring pages and print them out. They are intended for non-commercial use, so feel free to print as many as you'd like. We provide a collection of free printables including the coloring pages, number worksheets, and other resources to keep the kids occupied.
Tools of the Trade
Crayons, colored pencils, gel pens, or watercolors: all are great tools for coloring. Older kids and adults might enjoy experimenting with more complex tools like gel pens, but for the little ones, crayons or colored pencils will do just fine.
A Word for the Adults
Coloring isn't only for kids. It's a therapeutic and relaxing activity for adults too. In this collection of animal coloring pages, there are also intricate designs that adults can color. Plus, you'll find affiliate links for coloring supplies you might need.
So why wait? Download our collection of free coloring pages today. Whether you're five or fifty, these cute animal coloring pages will provide hours of fun and relaxation.
Happy coloring!
Download your FREE Cute Animal Coloring Pages Here
Sign up for the Growing Play email. You will get access to the free cute animal coloring pages.