Cute Kawaii Unicorn Coloring Pages FREE
Cute Unicorn Kawaii coloring pages have been gaining popularity, providing a fun, engaging, and therapeutic activity for kids of all ages. These pages feature adorable Kawaii unicorns and other favorite designs in a variety of simple and detailed designs. If you're a fan of pastel colors, magical creatures, and Japanese culture, these cute Kawaii unicorn coloring pages are sure to captivate you.
You can download a FREE copy of this 10-page PDF unicorn coloring packet at the bottom of this post.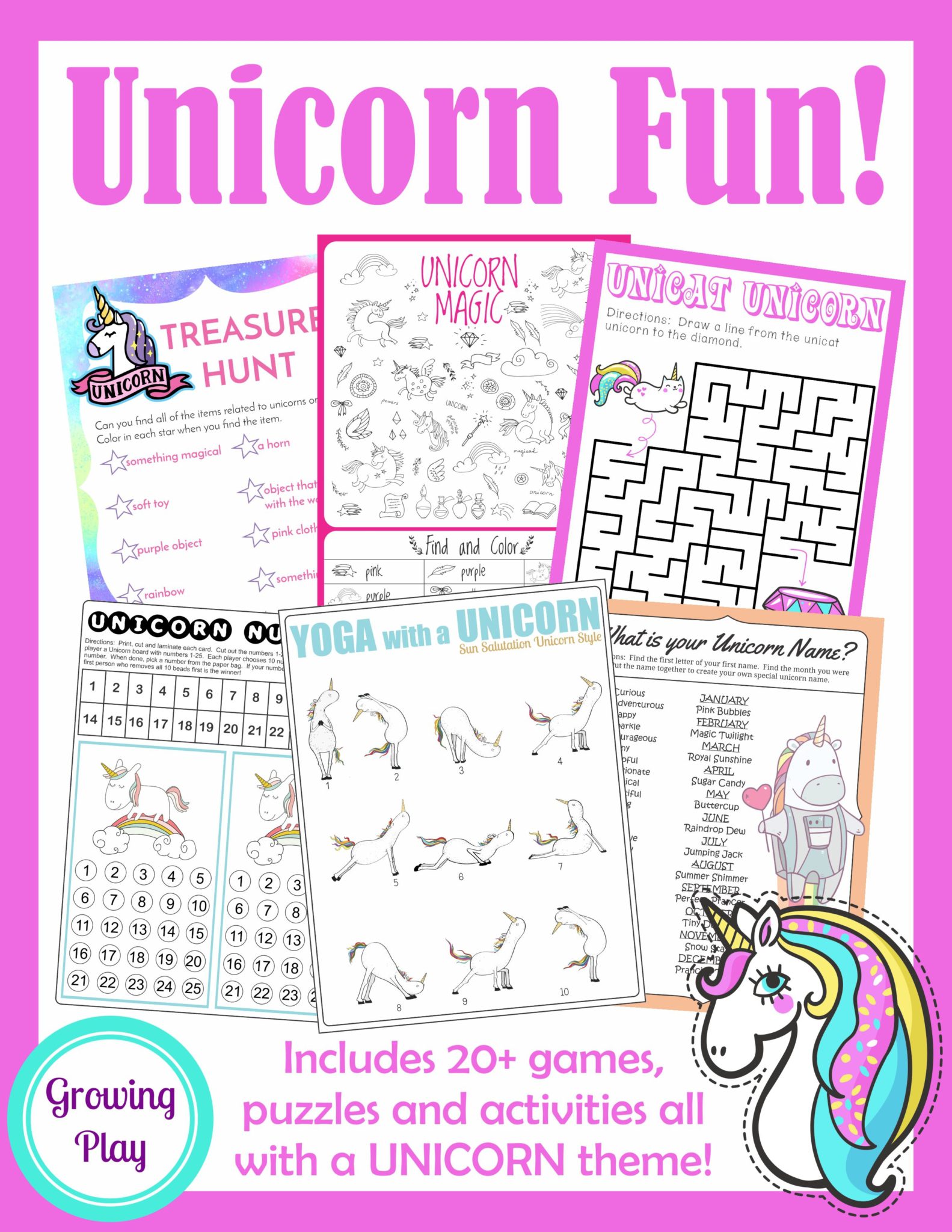 Unicorn Birthday Games Activities Puzzles
WHAT IS INCLUDED IN THIS FREE COLORING PACKET FOR UNICORN PARTIES?
This unicorn coloring packet includes 10 cute, adorable pictures of unicorns to color. See the photo gallery below.
Check out these FREE Cute Animal Coloring Pages too, to add to your coloring collection!
BENEFITS OF COLORING
Coloring is more than just a fun activity for young children. It has numerous mental health benefits and aids in developing essential skills:
Mental Health Benefits
Coloring has been found to be a great way to relax and de-stress. It provides a creative outlet that can help improve mental health, helping us to switch off our brains from other thoughts and focus only on the moment.
Fine Motor Skills and Hand-Eye Coordination
Coloring can help enhance fine motor skills and hand-eye coordination. The act of coloring can improve motor skills in the small hand muscles, aiding children in writing and other activities that require precision.
WHEN TO USE THE CUTE KAWAII UNICORN COLORING PAGES
Cute Unicorn Kawaii coloring pages are suitable for all skill levels, from younger kids to older kids and even adults who love coloring. They can be used anytime, anywhere. For example, you might print a cute Kawaii unicorn coloring page for a rainy day activity, or use them as a calming down tool in the middle of a hectic day.
The pages vary from simple unicorn outlines suitable for young kids, to more detailed designs for older kids and adults, such as the beautiful unicorn in an enchanted forest or the majestic Persian unicorn.
They are also an excellent choice for themed parties. What better way to engage kids in a Unicorn themed party than to provide them with free printable unicorn coloring pages, featuring cute Kawaii unicorns with their single horn, innocent eyes, and rainbow tails?
Related Posts
If you're looking for more unicorn-themed activities, be sure to check out these other posts on our site:
Don't miss out on these free unicorn coloring pages and other unicorn-themed games and activities. They'll add a touch of magic and color to your day. Plus, they can help enhance skills like problem-solving and creativity in a fun, engaging way.
Coloring is indeed one of the best ways to relax and enjoy free time, no matter your age.
HOW TO DOWNLOAD YOUR FREE COPY OF THE FREE CUTE KAWAII UNICORN COLORING PAGES
To get your hands on our adorable unicorn and other cute Kawaii coloring pages, simply enter your email below. Once you've submitted your email, you'll be redirected to a digital download of the free PDF packet.
Please note: These printables are for personal use only. Please refer to our terms of use and privacy policy for more information.
Once you've entered your email, you'll receive instant access to a variety of coloring pages, including cute unicorn coloring pages, simple unicorn coloring page, printable unicorn coloring sheets, a baby unicorn coloring page, and even a midnight unicorn for those who prefer a bit of fantasy in darker shades.