Word Search Spanish Printable – FREE
Hello to all language enthusiasts and learners, young kids to adults alike! We have a wonderful treat for you today – a 100 Word Search Spanish Printable. This engaging activity is a fun and enjoyable way to learn and reinforce your Spanish vocabulary. Plus, it's completely FREE to download! Don't forget that you can also color in the background of the puzzle too!
Dive into Sp​anish Word Search Puzzles
We believe learning a foreign language should be an exciting journey. That's why we've designed these Spanish word search puzzles to cater to your learning needs while keeping the fun intact. This Spanish printable activity features 50 common Spanish words related to numbers, colors, clothing, family members, and more! Our goal is to enhance a student's knowledge of Spanish in an interactive and engaging way.
Abstract Faces Coloring Challenge
Benefits of Word Search Puzzles in Language Learning
Word search games aren't just a fun way to pass time; they are a great way to learn too. When you are searching for a word, your brain is simultaneously working on memorizing it, thus boosting your word recall. The thematic word search printables we've prepared for you target vocabulary related to everyday Spanish, ideal for both native Spanish speakers and learners in the United States and beyond.
Word Search Templates for Different Difficulty Levels
Our 100 Word Search Spanish Printable is designed to cater to different difficulty levels, making it a perfect activity for everyone from 5th graders to adults. The size grid varies from simple to complex, and there's an answer key for those really tricky puzzles. This set of word search puzzles even includes a word scramble for an extra challenge!
What's Included in the 100 Word Search Spanish Printable
This comprehensive word search printable contains 50 Spanish words from different themes. There are:
Spanish Numbers Word Search: Learn your 'uno, dos, tres' with the vocabulary words in this Spanish word search printable
Spanish Basic Colors
Spanish Clothes Word Search: Clothing vocabulary is a great addition to any language learner's arsenal.
Spanish Family Members Word Search: Strengthen your understanding of family terms in Spanish.
The Spanish puzzle also includes a list of words in both Spanish and their English translations, making this printable a powerful tool to learn new words.
If you like hard word searches, check out these options:
100 Hard Word Search Puzzle – Everyday Life Words
If you want another 100 hard word search puzzles printable packet, check out this one – State Capitals Word Search Puzzle or 100 Words About Nature Puzzle.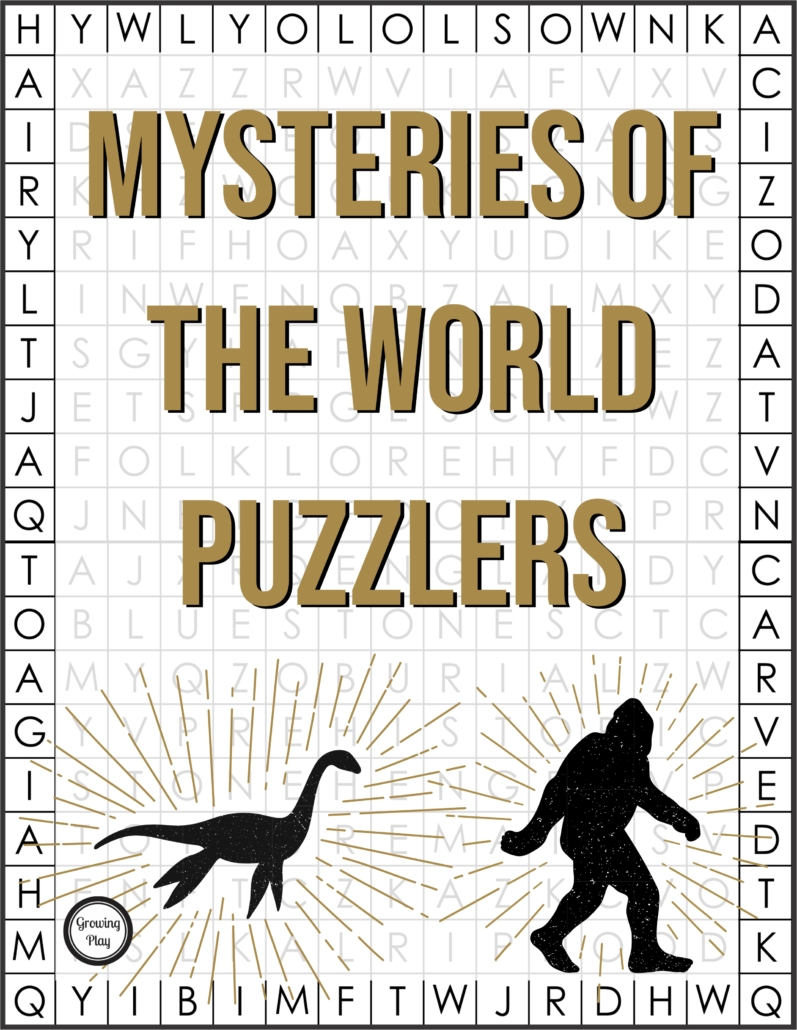 Mysteries of the World Word Search Puzzlers Packet
Download Your Free Word Search Games
Our Spanish word search worksheets are ready for free downloads! These Spanish handouts are perfect for introducing new vocabulary in the classroom or practicing at home. These fun word searches also make excellent resources for teachers in a classroom setting.
In our commitment to offer accessible resources for everyone, we've ensured these printables come in large print for ease of use.
Boost Your Spanish Vocabulary Today with this Word Search Spanish Printable!
Learning Spanish can be fun and engaging with our print free Spanish word searches. The English translations of the Spanish words included help learners understand the meaning of the words they are searching for, making this a great addition to your Spanish worksheets.
Please review our privacy policy before downloading. Enjoy your word search journey!
Remember, language learning is a journey filled with discovery and enjoyment. What better way to learn Spanish than with these fun, themed word searches? Let's embrace the wonderful way of learning languages, one Spanish word at a time.
DOWNLOAD YOUR FREE WORD SEARCH SPANISH PRINTABLE
Sign up to receive the Growing Play email newsletter and get access to the free word search.