One Foolproof Tip to Increase Toddler Playtime
One Foolproof Tip to Increase Toddler Playtime
Do you struggle to find things to entertain your toddler?  Does your toddler switch from one activity to the next creating havoc?  As a mother of 6 kids, this was us for years.  If you are parenting a toddler, you know that playtime is not always easy.  It can be so hard to entertain little ones for long periods of time.  Let's face it – for more than a few minutes at a time.  They play, they throw, they move onto to the next toy.  When toddlers are overstimulated by busy environments, it makes it difficult to focus on playtime.
What if you could increase toddler playtime and encourage different ways to play in one easy step?  I'm sure you are thinking that it can not be that simple.  But it can and it is simple.  Simple in fact is the KEY word.  Reduce the number of toys that your toddler has access to when playing.
Research indicates that when toddlers are provided with fewer toys in the environment, toddlers engage in longer periods of play with a single toy, allowing better focus to explore and play more creatively.  Isn't that awesome?  How simple is that?  Remove some toys to create this win-win situation: less clean up and longer toddler playtime.
This doesn't mean that toddlers don't need variety in their play.  They do – they need toys that encourage fine motor skills, physical activity, gross motor skills, cognitive, emotional and social development.  Toddlers just don't need all those toys at once.
The next time you need to increase your toddler's playtime, try only providing a few options in a less stimulating environment and watch them play and learn for longer periods of time.
Reference:  Dauch, C., Imwalle, M., Ocasio, B., & Metz, A. E. (2018). The influence of the number of toys in the environment on toddlers' play. Infant Behavior and Development, 50, 78-87.
Read my #1 Best Idea to Entertain a Toddler
Need more ideas to entertain your toddler?  Check out Toddler Pages.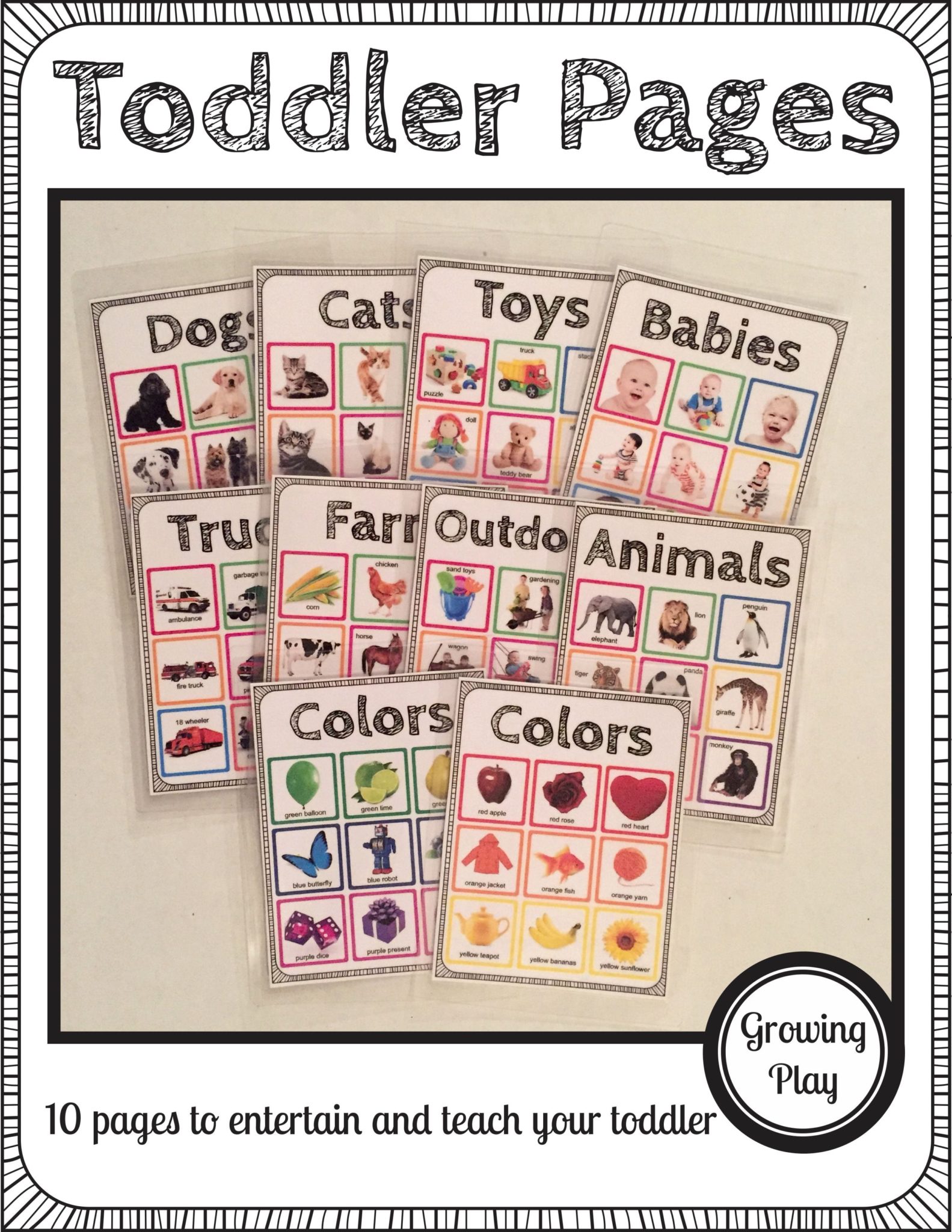 This digital download of 10 entertaining and educational pages for baby and toddler includes the following 10 themes: baby, dogs, cats, toys, animals, farm, trucks, outdoors and 2 color identification pages.
growingplay.com
You can print the pages on cardstock paper and laminate.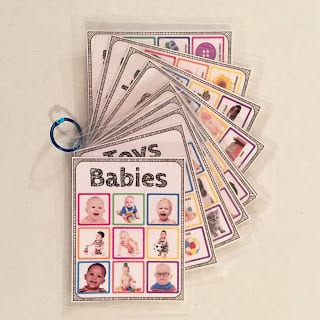 growingplay.com
If you want to print the pages smaller, open up the file and set your printer to print multiple pages at once. For example, if you want 4 pages to a regular size piece of paper, hit FILE – PRINT – MULTIPLE – SELECT 2 or 4 pages per sheet.
Point and show the pictures to your toddler saying the name of each object, describing the picture or reading the word. You can laminate the pages, punch holes and put on a key ring or let the baby have just one page at a time (easier to hold).
Print as many times as you like for your personal use. Print a set for yourself and make one for a friend. The baby toddler pages make a GREAT gift!