Unicorn Birthday Party Invitations and Thank You Notes – FREE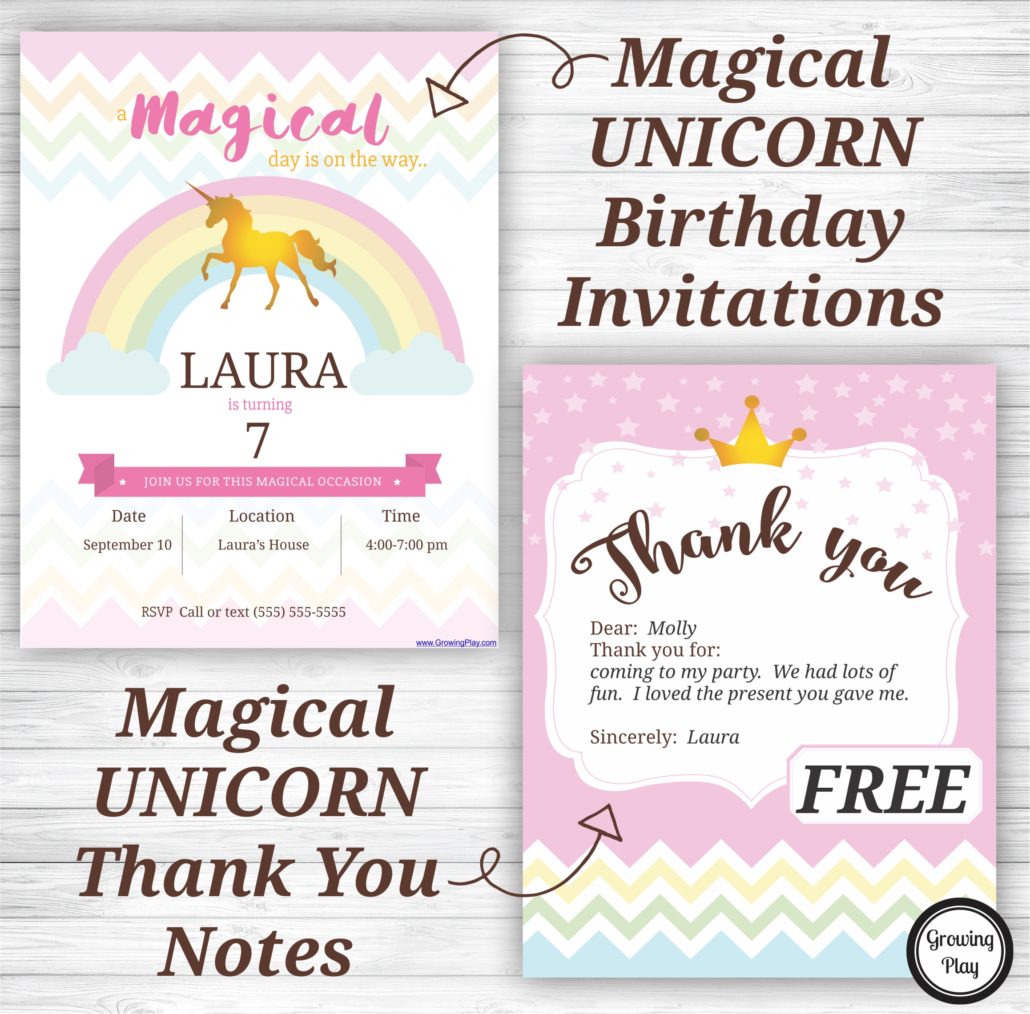 Are you planning a magical unicorn birthday party? Do you want to create an experience that your child will treasure forever? One of the good things about the digital era we live in is that you don't have to look far to find the perfect unicorn invitation. Here, we are offering free unicorn birthday party invitations that are guaranteed to set a whimsical tone for your child's big day. Not only that, but we also provide a matching Thank You note to wrap things up beautifully!
Unicorn Birthday Party Package
Magical Unicorn Birthday Party Invitations
These unicorn invitations are sure to enchant kids of all ages. Our magical unicorn invitation template is a free printable unicorn invitation that comes in a downloadable pdf format. It includes a beautiful unicorn in pastel colors, which captures the essence of these creatures straight from fairy tales.
The unicorn invitation template can be edited easily using Adobe Reader to include the party details such as your child's name, the date, location, time, and RSVP number. All these details can be added onto the beautiful unicorn-themed background, making it the perfect unicorn invitation.
Free Printable Unicorn Birthday Invitation and Thank You Notes
Alongside the magical unicorn birthday party invitation, we offer a free printable unicorn birthday invitation and Thank You note. Both these are provided in a downloadable PDF file that can be edited easily. The Thank You note is a colorful note where you can type your heartfelt message. The cutest unicorn on top makes it a charming keepsake.
For the best print options, we recommend printing the unicorn birthday party invitation and Thank You note on white cardstock paper using a home printer. This gives it a quality feel that matches the lovely designs.
Unicorn Party Favors
Add to the magic with unicorn party favors that coordinate with the unicorn birthday party theme. We provide free printables such as unicorn candy party toppers and more! If you need welcome signs, unicorn water bottle labels and even a cupcake topper check out this Party Packet. All of these add a touch of magic to the themed party and can be downloaded and printed at home.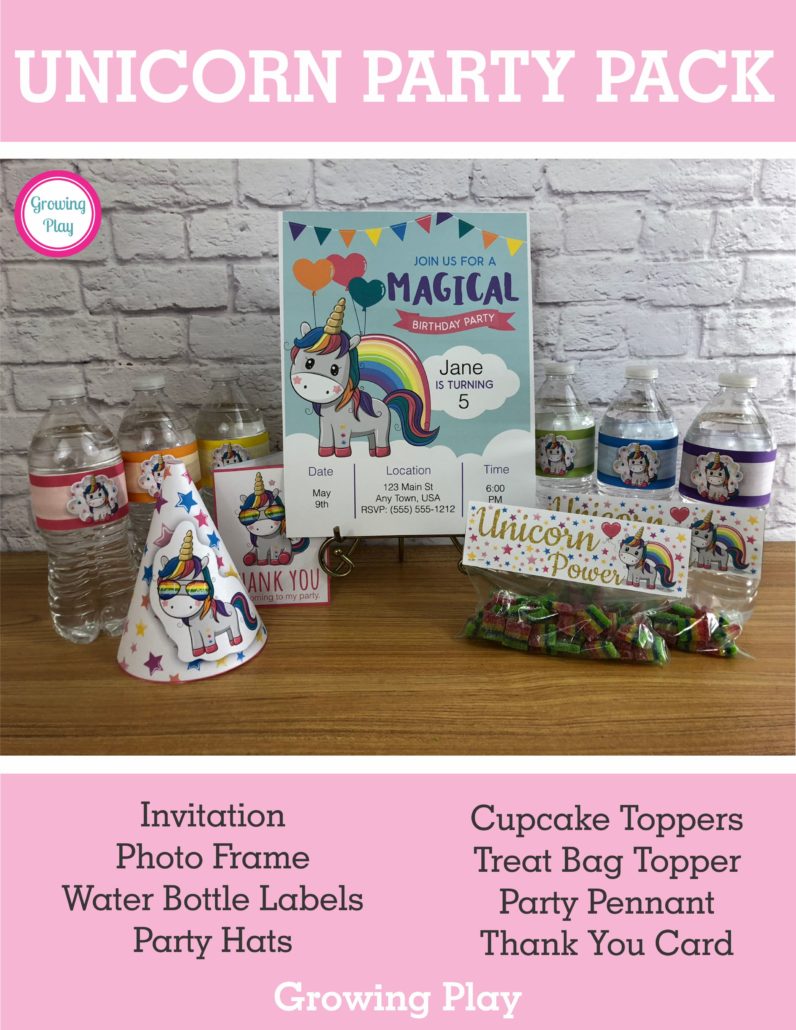 Unicorn Party Printables – Invitation, Decorations and Thank You Cards
How to Download Your Free Unicorn Birthday Invitation Templates
Getting your hands on these free unicorn birthday invitation templates is a breeze. Just provide your email address for the free download, and the digital templates will be available for instant download. Remember, these are for personal use only, as per our privacy policy.
In addition to the free invitations, you can share the magical party digital invitation across your favorite social networks. It's a great way to get everyone excited for the magical celebration ahead!
A Rainbow Unicorn Birthday Invitation
For those wanting different options, we also have a rainbow unicorn invitation available royalty-free. This happy birthday greeting card is a riot of colors that will delight any child.
Let the Magical Unicorn Party Begin!
With these free unicorn birthday party invitations and matching Thank You notes, you are well on your way to hosting a unicorn-themed party that will be remembered for years to come. And don't forget, we also offer free shipping on additional party items to complete your magical party!
For any questions, feel free to reach out to our help center. Our team is ready and eager to assist you in making your child's big day a truly magical celebration!
Unicorn parties are about more than just fun. They're about creating memories, embarking on treasure hunts of imagination, and celebrating the magical world of childhood. The best way to kickstart this journey is by sending out the perfect unicorn invitation. So why wait? Download your free unicorn birthday party invitations today!
Check out the Unicorn Fun packet – for just the cost of this packet (plus some food), you can plan an entire birthday party!  What a bargain and what a time saver!  Look at that an entire unicorn birthday party planned for your little girl just like that!