Pirate Hat Printable – FREE PDF
This free printable pirate hat pattern is perfect for your next preschool theme or dress-up day! It's quick and easy to make, and kids will love wearing their new hats! Plus, it's a great way to practice fine motor skills too. So grab your materials and let's get started!
Download and Print the Pirate Hat Printable
It's time to dress up like a pirate for your next treasure-hunting adventure! If you don't already have a trusty black and white paper pirate hat, we've got you covered. Just download the free PDF printable from our blog post and you'll be ready to go in no time! Print out the file on white paper at home or at your local printer, cut it out, and don your stylish new headgear! Your pirate looks will never be complete without this awesome printable, so start downloading now.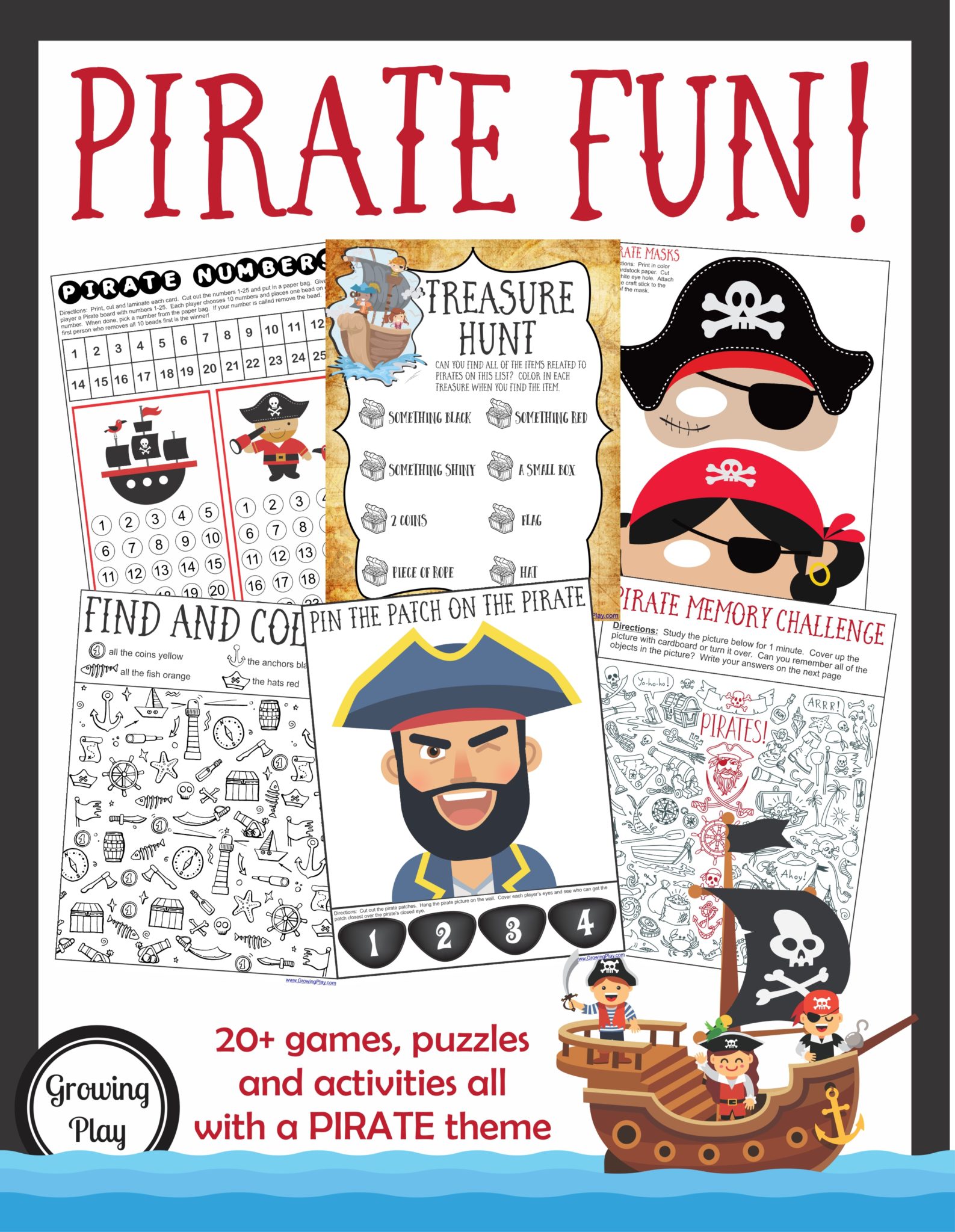 Pirate Birthday Games Activities Puzzles Mazes – FUN!
Create the Hat Using Scissors, Glue or Tape
Creating your own pirate hat is a fun and easy task! All you need are a pair of scissors, some glue or tape, and the pirate hat printable PDF found online. Begin by printing out the PDF on sturdy paper and then cutting it out along the solid black lines.
Once you have done that, simply use the glue or colorful tape for extra flair to wrap the sides together and form an amazing pirate hat. If you have craft supplies like sequins or feathers on hand, add those for an extra-special touch! In no time, even novice crafters will have a fantastic pirate hat perfect for a day of role-play and imaginative fun.
Play Pretend Pirate
Playing pretend pirate is a great activity for kids and adults alike! To get started, make sure you have all of your pirate props – how about a bandana, an eye-patch, and some plastic swords? Don't forget your pirate hat!
Then set the scene – a ship's wheel, a treasure map… whatever makes the game even more realistic. Next, decide how to play. Depending on how creative you want to be in your storytelling, you can come up with pirate adventures filled with battles against sea monsters or search for ever-elusive buried treasure. It's an imaginative way of playing together and having lots of fun!
Benefits of Pretend Play
Pretend play is a positive and helpful experience for children of all ages. It encourages creativity, promotes language development, and helps build problem-solving skills while improving motor skills.
Pretend play also supports positive socialization as kids learn how to relate to one another through the use of toy people or action figures. Putting themselves in different roles can help them explore empathy and better understand relationships. Not only is pretend play an enjoyable pastime, it can also be a great way to improve a child's cognition, reasoning, communication, and emotion regulation. With so many positive benefits, why not encourage some pretend play?
Read more about Pretend Play.
Fine Motor Skill Benefits with This Activity
Engaging fine motor skills activities are a great way to give your kids an enriching break from academic learning. When it comes to fine motor skill development, there is no shortage of fun, helpful activities! Tearing paper, using scissors, gluing pieces together and working with tape all help finger strengthening.
And the best part is that these fine motor skill-building activities can all be found around the house, so this activity won't require a store trip! With all the fun and practical benefits that these fine motor skills activities bring to the table, they are definitely worth exploring!
Arrr, be ready for swashbuckling fun with this easy pirate hat printable. Just grab the free download, print it out and follow the simple steps to create your own paper pirate hat. Then get busy pretending to be an ambitious captain or daring first mate on a high seas adventure.
Benefits of pretend play include improved communication skills, enhanced imagination and creativity and even development of fine motor skills when cutting and pasting activities are involved. Speaking of which, check out our complete Pirate Games and Activities Packet that is chock full of themed activities to help little ones build those all important early childhood skills while having oodles of fun. Happy Pretend Play!
More Pirate Fun
Download Your FREE Pirate Hat Printable Here
Sign up to receive the Growing Play email newsletter. You will get access to the printable. If you are already signed up, you can enter your email too to get the download. You will not be subscribed twice.